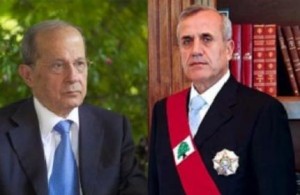 Free Patriotic Movement leader MP Michel Aoun told reporters after the meeting of his parliamentary bloc at Rabiyeh that there has been no progress over the government formation adding that it is" facing more obstacles from the top." A possible reference to president Michel Suleiman.
"We made all the concessions we could but the obstruction is coming from the top " adding "there is a decision against the government formation."
Commenting on Speaker Nabih Berri's call for a parliament session on Wednesday he said:
"We have confirmed the constitutional legality of the session" adding "no one has the right to obstruct the holding of a constitutional parliamentary meeting "
According to observers Aoun continues to be the main obstacle for insisting that the candidate for the second Maronite minister, who will be part of President   Suleiman's share, should not be from Jbeil and Kesrouan areas.
For election reasons, Aoun is reportedly afraid that Suleiman would undercut the FPM leader's popular base in the two regions in the parliamentary elections in 2013.
In addition to the issue of the 6th Maronite minister, the deal on naming retired Internal Security Forces Maj. Gen. Marwan Charbel to the post hasn't reportedly been finalized yet.
Aoun's ally , the Iranian and Syrian backed Hezbollah brought down PM Saad Hariri's government on January 12 over the Special Tribunal for Lebanon's (STL) imminent indictment which is widely expected to implicate Hezbollah members in the assassination of former PM Rafik Hariri in 2005.
Lebanon has been run by a caretaker government since last January. nagib Mikati was appointed in January as the PM designate with the backing of the Hezbollah led-March 8 alliance, MPs Jumblatt and Mohammad Safadi . March 14 leaders have repeatedly said that intimidation from Hezbollah's weapons helped secure the parliamentary majority for Mikati's nomination.