corruption probe:Iraq to ask Lebanon to hand over bank chief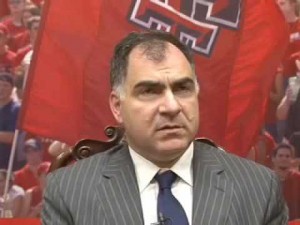 Iraq will ask Lebanon to hand over Hussein al-Uzri, the former president and chairman of state- owned Trade Bank of Iraq, as part of a corruption probe, said Ali al-Allaq, secretary general of the Council of Ministers.
Trade Bank of Iraq is under investigation for alleged irregularities and al-Uzri is facing an arrest warrant issued by the Iraqi authorities, al-Allaq said in a press conference in Baghdad today. Iraqi Prime Minister Nuri al-Maliki appointed Hamida al-Jaf to replace him, the bank's deputy Director-General Abdel Hadi Sadeq Abdel Mahdi said yesterday.
"We hope the Lebanese government will cooperate with us and we are sure that he is in Lebanon," al-Allaq said. "He is wanted and we will resort to all legal and diplomatic means to return al-Uzri to Iraq, including the Interpol."
The irregularities are valued at "millions of dollars, and we have been following this for more than two years," he said.
Al-Jaf has 30 years of banking experience and previously worked at state-owned Rafidain bank. Trade Bank of Iraq is "working normally and the new administration appointed by the prime minister is carrying out its duties normally," al-Allaq said.
Demonstrations calling for an end to corruption and better services in Iraq preceded the wave of unrest that has swept through North Africa and the Middle East. Berlin-based Transparency International, an anti-graft group, placed Iraq in fourth to last place in its 2010 corruption index of 178 countries.