Ban Ki-moon seeks second term as UN chief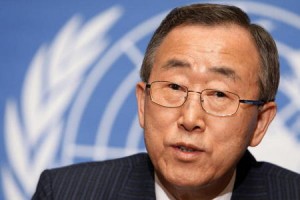 United Nations Secretary-General Ban Ki-moon, perhaps best known for raising global awareness of how climate change will most deeply affect the world's poor and developing countries, declared on Monday his candidacy for a second five-year term.
The former Korean diplomat has been known for several months to have decided to seek to stay on at the helm of the world body, but he made his intentions official Monday before representatives of the UN's 53-nation Asia group.
Later Monday, Secretary-General Ban asked the 15-nation Security Council for its support in his reelection bid. Ban has known since March that he has the backing of the United States, and virtually all UN experts say they expect few if any glitches to trouble his path to a second term.
Ban, who took over from former Secretary-General Kofi Annan in January 2007, has been frequently described as lacking charisma and global star power. But some former UN officials and international experts who know the institution well say they have never seen greater persistence or a stronger work ethic in the person holding the premier global body's top position.
Speaking with reporters in New York Monday, Ban said he was proud that the UN under his guidance had saved many lives and had sown "the seeds of peace" in conflicts ranging from Sudan and Somalia to Congo and Cote d'Ivoire. He also pledged to keep climate change and particularly its impact in the developing world at the top of his agenda.
Most crucially, Ban has the support of the five permanent and veto-wielding members of the Security Council: The US, Russia, China, France, and Great Britain. The Security Council is expected to recommend a second term for Ban to the UN General Assembly, which in turn is expected to vote in favor before the end of June.
Ban followed the high-profile Mr. Annan with a markedly more low-key style – although he did reveal a humorous side by singing "Ban Ki-moon is Coming to Town" to the tune of the well-known Christmas song about Santa Claus before a group of UN correspondents.
Another supporter of a second term for Ban is the former US ambassador to the UN John Bolton, who says Ban has been at his best when he has "followed his instincts" by deferring to UN member states even as he has championed such issues as food security and advancing freedom and democracy in the Arab Spring.
Mr. Bolton also gives Ban positive marks for supporting UN reform. But the conservative Bolton and other former UN officials and experts say Ban will have to step up the reform tempo in a second term if he wants to stand out as a UN leader.