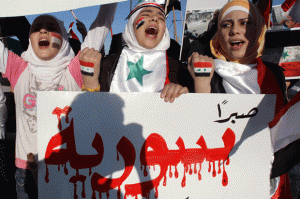 Syrian forces have killed more than 35 people since Saturday during protests in a pair of northern towns against the regime of President Bashar Assad, according to human rights groups.
Rami Abdul-Rahman of the Syrian Observatory for Human Rights said the deaths in the town of Jisr al-Shughour and nearby Khan Sheikhoun included six policemen.
State-run news agency SANA said Sunday four policemen were killed and more than 20 wounded in the area when "armed terrorist"groups attacked government buildings and police stations. It said the groups have been launching attacks against government buildings since Saturday.
The Local Coordination Committees, which helps organize and document the protests calling for an end to the Assad regime, estimates more than 1,200 people have died in the military action against anti-government protesters since March.
Protesters have been demanding an end to the regime of Assad, who took over in 2000 after the death of his father Hafez. The family has ruled Syria for more than 40 years.
Meanwhile, the city of Hama appears to be calm after a military operation on Friday that killed at least 65 people. Tanks ring the southern outskirts of the central Syrian town.
Hama is the site of a bloody uprising in 1982 when the city rose up against Assad's father only to be crushed by a three-week bombing campaign that killed thousands.
A resident, speaking on condition of anonymity, said security forces opened fire on anti-government protesters Friday.
"Most of the shops here are closed, people are grieving and worried," he said in a phone call on Sunday.
Activists on Sunday also said the army withdrew from the villages of Dael and Hirak near the city of Daraa where the uprising against Assad's regime began in mid-March. The military had been conducting military operations in the area for days.
The Syrian government has severely restricted the media and expelled foreign reporters, making it nearly impossible to independently verify what is happening in the country.
Photo: Syrians living in Jordan hold a sign that reads, 'Be patient Syria, the victory is written by the blood,' while shouting slogans demanding that Syrian President Bashar Assad steps down during a protest near the Syrian Embassy in Amman, Jordan. (Muhammad Hamed/Reuters)