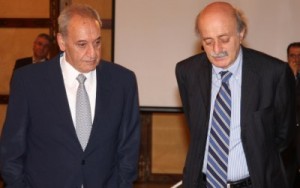 National Struggle Front bloc leader MP Walid Jumblatt and his bloc will abstain from the parliamentary session scheduled for June 8, LBC television reported on Thursday.
Speaker Nabih Berri called for the session in order to bypass the caretaker cabinet, despite strong opposition by some parties.
Jumblatt wants to keep a centrist position, the report said.
The TV station also reported that Jumblatt proposed three solutions for the debate on the issue of renewing the term of Central Bank Governor Riad Salameh.
It added that Berri also proposed 48 articles for the parliamentary session, among them an amnesty law for some crimes committed prior to 2011.
The Central Bank governor's term will end in July 2011 and a cabinet decision to assign a successor to his post is needed, which is now impossible since Prime Minister-designate Najib Mikati is still working to form his cabinet.
Session condemned
Deputy Speaker Farid Makari and some members of the Parliament Bureau Committee including MP Ahmed Fatfat, Marwan Hamadeh, Antoine Zahra, and Serge Toursakissian condemned on Thursday Berri's decision to hold a parliament session on June 8, labeling it as "a blow to democratic parliamentary practices in Lebanon."
"His decision violates the privileges of the committee and parliament's internal system in that he devised next week's schedule by himself, " they said in a statement.
"The committee therefore believes that the schedule that was distributed today at parliament has no legal grounds," the statement added.
"Such practices fuel our conviction that the June 8 session is a violation of parliamentary norms and the Lebanese constitution," the statement said.
Late Thusrday, the parliament's general-secretariat responded to the statement, noting that the meeting held by the Parliament Bureau Committee on Wednesday "did not tackle the agenda of the June 8 plenary session, despite the fact that the members were briefed by the speaker about it and that the agenda has been distributed to all the members."
"The members who issued a statement today (Thursday) had only voiced their rejection to hold the session, although it is a matter that exclusively falls within the speaker's jurisdiction," the general-secretariat added.
"This subject was clarified to all the members of the bureau during the meeting and they were also told that in case no quorum was present (during the June 8 session), the speaker would call for further sessions," it noted.