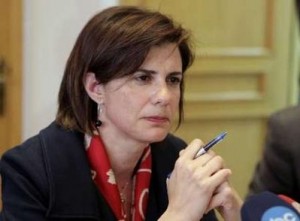 Caretaker Finance Minister Rayya al-Hassan urged resigned Minister of Communications Charbel Nahhas, to abandon the tone of the "loud voice and lack of civility and political obscenity and implement the Court of Account's decision of granting 100 billion L.L. out of his ministry's budget to Ogero Telecom Company.
"The amount should be fully transferred to Ogero…in order to pay everyone on time," Hassan said according to a statement issued by her office.
She also said that Nahhas' boss Change and Reform bloc leader MP Michel Aoun and Nahhas himself , have made statements that were legally incorrect during the past week.