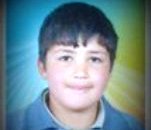 Syria said on Wednesday that Hamzah al Khateeb, 13, the boy opposition activists charged Syrian security forces had tortured to death, had in fact died from bullet wounds.
'All the accusations are pure lies,' the official news Agency SANA said.
SANA said a medical report signed by several doctors said three bullets had killed Hamzah and the wounds across his body were the result of decomposition, not torture.
'The report will close the door on lies and allegations and shows the truth,' SANA said.
The agency said Hamzah's body was found on April 29 and it was handed over to his parents only on May 21, as he had not been identified.
Activists and Syrian opposition Facebook pages showed horrific pictures of Hamzah's tortured body, and said he had been subjected to appalling torture before being killed by the Syrian security forces in the southern town of Daraa.
The video showed al Khateeb's body swollen, disfigured. It appeared to have been burned with cigarettes and shot multiple times.
The official Syrian media also said on Wednesday that al-Assad had received the boy's parents on Tuesday, but gave no details of the meeting.
Secretary of State Hillary Clinton had expressed the hope that the Syrian government 'will end the brutality against its people.'
'I have here the name of the young boy whose body was so brutally affected by the behaviour and conduct of those who had him in detention – Hamza al-Khateeb – and I can only hope that this child did not die in vain, but that the Syrian government will end the brutality and begin a transition to real democracy,' Clinton said.
Earlier, the New York-based watchdog Human Rights Watch said the killings and torture exercised by the Syrian security forces against the people in Daraa over the past two months may qualify 'as crimes against humanity.' m&c