Rifi: Nahhas is undermining Lebanon's security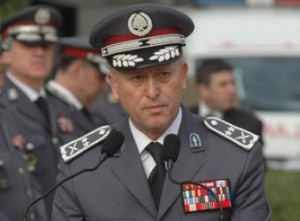 Internal Security Forces chief Maj. Gen. Ashraf Rifi Thursday accused resigned Telecoms Minister Charbel Nahhas of undermining security in the country, following a dispute between Nahhas and security services that almost turned deadly.
The intelligence branch of the ISF had prevented Nahhas from entering a Telecoms Ministry facility on Thursday to dismantle a mobile phone station belonging to OGERO Telecom.
"The action by Nahhas was an attempt to rid the country of its security, and that's what we will not allow," Rifi said, adding that Nahhas held personal grudges.
Nahhas' boss Free Patriotic Movement leader MP Michel Aoun called Friday for the prosecution Rifi over yesterday's incident.
"What happened at the ministry on Thursday was a remarkable crime and a coup," Aoun told a news conference after an extraordinary meeting of his Change and Reform parliamentary bloc.
Aoun called on President Michel Suleiman, in his capacity as the overall commander of the armed forces, to, clip Rifi's wings, order the withdrawal of the Information Branch members from the telecoms ministry.and refer Rifi to judicial authorities.
Dr. Ziad Ajouz leader of the Free Nasserite Movement described Nahhas' plan to dismantle the Ogero telecom station as a militia action. Ajouz said Nahhas was accompanied by Hezbollah gunmen to dismantle the OGERO station that is being always guarded by the internal security forces. Ajouz said that Nahhas got the password Wednesday from Hezbollah chief Sayyed Hassan Nasrallah