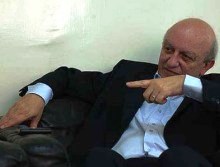 Former MP Samir Franjieh, a key member of march 14 alliance said on Monday that
forming a national-salvation cabinet is impossible because there is no political agreement between the major parties on the issue.
He told MTV that March 8 is incapable of forming a cabinet and governing the country.
Franjieh also said that Hezbollah does not need to ally with March 14, adding that "what is required from both is to turn the page."
If Hezbollah is committed to the UN Security Council Resolution 1701, it must not retain its arms, he also said.
"Iran is in a dangerous and difficult situation. The only supporters it has left in the Arab world is Hezbollah."
His comment comes after former Lebanese president and current Phalange Party leader Amin Gemayel told MTV on Sunday : "A national salvation cabinet must be formed and the issue of weapons must be tackled through national dialogue."
Gemayel stressed that his call for a national salvation cabinet means a "cabinet on which there is consensus."
Prime Minister-designate Najib Mikati was appointed in January with the March 8 coalition's backing and has not yet formed his cabinet. Saad Hariri's government, which collapsed in January, is currently functioning in a caretaker capacity.