Lebanon Cabinet formation is back to square one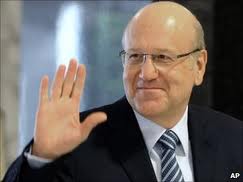 MTV reported that the dispute over the interior ministry portfolio has resurfaced after FPM leader MP Michel Aoun voiced objections to the nomination of retired Brig. Gen. Marwan Charbel.
Meanwhile , LBC reported that contacts over the cabinet formation process have ground to a complete halt.
On the other hand sources of MP Nagib Mikati told MTV that the "PM-designate will press on with efforts aimed at forming the new cabinet starting tomorrow because Lebanon cannot afford to remain without a government amid the tensions in the region."
The Iranian and Syrian backed Hezbollah brought down PM Saad Hariri's government on January 12 over the Special Tribunal for Lebanon's (STL) imminent indictment which is widely expected to implicate Hezbollah members in the assassination of former PM Rafik Hariri in 2005.
Lebanon has been run by a caretaker government since last January. Mikati was appointed in January as the PM designate with the backing of the Hezbollah led-March 8 alliance, MPs Walid Jumblatt and Mohammad Safadi . March 14 leaders have repeatedly said that intimidation from Hezbollah's weapons helped secure the parliamentary majority for Mikati's nomination.
So far Mikati has not been able to form a government. A dispute over the Interior Ministry portfolio between President Michel Suleiman and MP Michel Aoun was blamed for the delay in the formation of a new cabinet headed by Mikati.
New obstacles came up after an agreement was reached on naming retired Brigadier Marwan Charbel as the Interior Ministry. Aoun is strongly against allocating any share in the cabinet to president Suleiman . Aoun is also insisting on naming all the Christian Maronite ministers, An Nahar sources reported.
Many analysts are of the Opinion that Hezbollah is hiding behind Aoun's demands and does not really want a government in Lebanon out of concern that the country could face a similar situation to Gaza after Hamas took over the strip.