SSNP chief slams US over Syria sanctions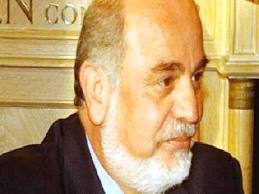 Syrian Social Nationalist Party leader MP Assaad Hardane a close ally of Syria condemned on Friday "the American arrogance of threats and intimidation, and US President Barack Obama's administration calls for sanctions against Syria. "
Hardan said Obama's policy "increases the great gulf between the region and its peoples on the one hand and the US and its allies on the other," National News Agency (NNA) quoted him as saying.
"There is no longer a possibility that we will witness a balanced and independent American policy in the region. There will not be an American policy liberated from the priority of protecting Israel's security at the expense of our rights," he said.
"It will not benefit the American administration to resort to the so-called imposition of sanctions on Syria. These sanctions have not and will not affect Syria's firmness and stances."
The United States imposed sanctions on Assad and six other top aides for human rights abuses on Wednesday in a dramatic escalation of pressure on Syria to cease its brutal crackdown on protesters.
In addition to Assad, the Treasury said the sanctions would target Vice President Farouq al-Shara ( pictured with Assad, Prime Minister Adel Safar, Interior Minister Mohammad Ibrahim al-Shaar, Defense Minister Ali Habib as well as Abdul Fatah Qudsiya, the head of Syrian military intelligence, and Mohammed Dib Zaitoun, director of the political security directorate.
In his Middle East policy speech on Thursday , President Barack Obama said the Syrian President faces the choice of either leading a democratic transition in his country or getting out of the way.
Obama on Wednesday sanctioned Syrian President Bashar al-Assad and six top aides over their crackdown on popular protests, telling Assad to launch a transition to democracy or step down.
Syrian president Bashar al Assad is reportedly determined to crush the 9 week-old revolt, which is the gravest challenge to his family's 40-year-old ruling dynasty.
More than 850 protesters have reportedly been killed and thousands have been jailed since the uprising began according to human rights groups.
In addition Syria is witnessing a campaign of mass arrests since the uprising began . More than 7,000 Syrians were arbitrarily detained and thrown into prisons, according to a count by activists who contacted detainees' family and friends. The majority of the detainees have also reportedly been tortured .
"Syrian security is now releasing detainees with unhealed wounds caused by torture in order to spread panic and fear among people hoping it will reduce the numbers participating in demonstrations," Wissam Tarif, Director of Insan, a leading Syrian human rights organization, which has documented cases of torture told al Jazeera