Netanyahu meets Obama, rejects 1967 border proposal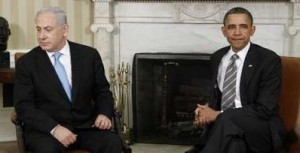 Israeli Prime Minister Benjamin Netanyahu said on Friday he was prepared to make compromises to peace but he rejected President Barack Obama's proposal that Israel return to its 1967 borders.
Obama and Netanyahu met at the White House a day after the U.S. president endorsed a longstanding Palestinian demand on the borders for their future state.
In remarks to reporters in the Oval Office, Obama said he had reiterated the principles he had laid out on Thursday.
Both men acknowledged differences between their positions.
Obama said the United States and Israel had an extraordinary bond. Netanyahu said he and Obama could still work together for peace.
Main issues discussed
The US president said that any final solution must include two states, Israel and a Palestinian state, which exist viably on each others borders.
Netanyahu said that while the refugee issue needed to be resolved, it could not be resolved within Israel's borders.
Obama reiterated that Israel's security would be "paramount" in any likely peace deal with the Palestinians.
In remarks to reporters in the Oval Office, Obama said he had reiterated the principles he had laid out on Thursday.
The two leaders also discussed issues relating to the recent Arab uprisings across the Middle East which has seen leaders ousted in Egypt and Tunisia.
Obama said that the two leaders discussed the protests in Syria, which is "of concern" to Israel. He said he explained to Netanyahu the steps the US is taking in regards to the situation, including sanctions against Syria and Syrian President Bashar Assad.
The two leaders also discussed Iran and the dangers presented by its possible procurement of nuclear weapons.
The US president said that he discussed with Netanyahu Iranian "hypocracy," saying that while Iran supports of democratization processes in the Middle East, the Islamic Republic also actively clamps down on anti-government opposition on its own soil.
Distrust
President Obama has reportedly told aides and allies that he does not believe that Netanyahu will ever be willing to make the kind of big concessions that will lead to a peace deal.
Netanyahu has reportedly complained that Obama has pushed Israel too far — a point driven home during a furious phone call with Secretary of State Hillary Rodham Clinton on Thursday morning, just hours before Obama's speech, during which the prime minister reacted angrily to the president's plan to endorse Israel's pre-1967 borders for a future Palestinian state.
Netanyahu, his close associates say, desperately wants Obama to use the diplomatic muscle of the United States to protect Israel from the United Nations General Assembly vote on Palestinian statehood in September not only by vetoing it in the Security Council, but also by leaning hard on America's European allies to get them to reject it as well.
Obama has reportedly indicated that he will certainly do the first. But it remains unclear how far Obama can go to persuade Britain, France and other American allies to join the United States in rejecting the move, particularly as long as Netanyahu continues to resist endorsing the pre-1967 lines.
"Their relationship is correct at best," said Judith Kipper, director of Middle East programs at the Institute of World Affairs. Netanyahu "likes the status quo, and he particularly identifies with the conservative Republicans."
msnbc, NYT