Verbal war between Aoun, Mikati escalates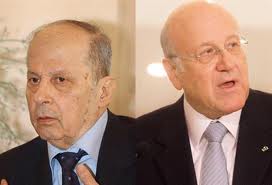 MP Fadi al-Aawar, said on Thursday that the Change and Reform bloc was close to a decision to withhold the nomination of Premier-designate Najib Mikati.
Al-Aawar , who is a member of Hezbollah but allocated to FPM leader Michel Aoun's bloc told Voice of Lebanon radio that the major reason behind the delay in the formation of the cabinet was that politicians were waiting for messages from abroad. He did not specify to which country he was referring to but Aoun , like Hezbollah has been accusing the US ambassador in Lebanon of interfering in the government formation
FPM sources claim that the premier-designate of intentionally accusing Aoun of being behind the delay in the formation of the government.
"Hadn't Mikati hinted that the cabinet would be formed as soon as the interior ministry obstacle was solved?" the sources wondered. "Why didn't his calculations prove he was right?"
Mikati fires back
In remarks to several Beirut newspapers, Mikati sources denied that the PM designate was behind the delay in the formation of the government, saying he was rejecting Aoun's new demands after the FPM chief turned against an agreement reached reached earlier between the various parties.
They said Aoun began asking for 9 portfolios and two state ministers without including MP Talal Arslan in his share almost a month after reaching a deal to get 8 ministers with portfolios and two state ministers.
In addition to that, the FPM chief rejected a demand by President Michel Suleiman for a second Maronite minister in the new cabinet, Mikati's circles said.
Mikati's visitors also quoted him as saying that after consensus was reached on retired Internal Security Forces Maj. Gen. Marwan Charbel to lead the interior ministry in the new cabinet , the PM designate held onto his stance not to put the telecommunications and energy ministries within the share of a single political party or a single parliamentary bloc.