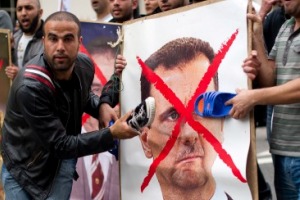 The US on Wednesday urged Syrian President Bashar al-Assad to lead a political transition or step down from power as it imposed sanctions on him.
"It is up to Assad to lead a political transition or to leave," according to US government talking points distributed by the State Department.
The United States imposed sanctions on Assad and six other top aides for human rights abuses on Wednesday in a dramatic escalation of pressure on Syria to cease its brutal crackdown on protesters.
The move, announced by the Treasury Department, freezes any assets of the Syrian officials that are in the United States or otherwise fall within U.S. jurisdiction and it generally bars U.S. individuals and companies from dealing with them.
In addition to Assad, the Treasury said the sanctions would target Vice President Farouq al-Shara ( pictured with Assad, Prime Minister Adel Safar, Interior Minister Mohammad Ibrahim al-Shaar, Defense Minister Ali Habib as well as Abdul Fatah Qudsiya, the head of Syrian military intelligence, and Mohammed Dib Zaitoun, director of the political security directorate.
"The actions the administration has taken today send an unequivocal message to President Assad, the Syrian leadership, and regime insiders that they will be held accountable for the ongoing violence and repression in Syria," said Acting Under Secretary for Terrorism and Financial Intelligence David S. Cohen said in a written statement.
"President al-Assad and his regime must immediately end the use of violence, answer the calls of the Syrian people for a more representative government, and embark upon the path of meaningful democratic reform," he added.
Up to 850 people, including women and children, have been killed and at least 8,000 arrested in the Syrian regime's crackdown on widespread protests, according to rights groups.