Transport Union will meet to discuss Hassan's offer, update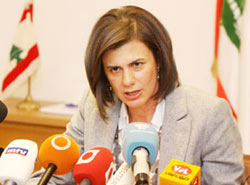 Lebanon's Ground transportation union will meet at 9:00 p.m. on Wednesday evening to discuss Finance Minister Rayya al-Hassan's proposal to subsidize public drivers' fuel costs, the National News Agency reported.
Hassan has said her ministry is ready to subsidize public drivers' fuel expenses for the next three months, with a possibility of extension if there is no new government in place or if the price per 20 liters does not go below 25,000 LL ( $16.66) or ($3.15 per US gallon) .
Hassan said that after consultations with various state authorities, the ministry is "ready to subsidize each public car driver or bus owner with the value of 12.5 x 20-liter containers each month (equivalent to 450,000 LL each month ( $300) for vehicles operating on gasoline)," according to a statement issued by the ministry.
Earlier in the day, Hassan and the union agreed in principle on the proposed subsidy, with Hassan saying she had to discuss the proposal with President Michel Suleiman and outgoing Prime Minister Saad Hariri in order to confirm that the caretaker cabinet has the authority to commit to such subsidies until the end of 2011.
Her offer is the latest move in talks between the ministry and the union aimed at averting public transport strikes set for Thursday.
MTV reported on Wednesday that the public transport strike scheduled for Thursday is part of Hezbollah and its allies' preparations to "completely paralyze the country."
A statement issued by transport union earlier on Wednesday said that bus and public car owners will go on strike across Lebanon between 6 a.m. and 12 p.m. on Thursday.
Update :Strike off
Lebanon's Ground transportation union have suspended the strike scheduled for Thursday, Future TV reported
The unions made the decision during an emergency meeting Wednesday night in which they accepted Finance Minister Rayya al-Hassan's proposal over the subsidy of fuel cost , the report said.
There was concern that Hezbollah was going to use the strike to "completely paralyze the country " as the party did in 2008