US and EU will take new steps to respond to Syria's crackdown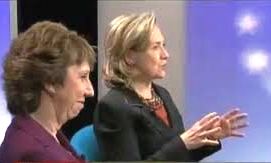 The United States and the European Union will take new steps to respond to Syria's crackdown in coming days if the government does not change course, Secretary of State Hillary Clinton and European Union foreign policy chief Catherine Ashton said on Tuesday.
Ashton told reporters ahead of a meeting with Clinton that she had spoken recently to Syria's foreign minister to convey the message that it was time to stop the violence.
"This is extremely urgent," Ashton said. "If the government really does … want to see some kind of change, it's got to be now."
"(We are) now in a situation where we need to consider all of the options. So I think there will be a number of moves in the coming hours and days that you will see," she added.
Clinton said she agreed and that both the EU and the United States — which have already slapped targeted sanctions on a number of senior Syrian officials but not on President Bashar al-Assad himself — were planning new moves.
"We will be taking additional steps in the days ahead," Clinton said.
Syria has been widely criticized for its crackdown on the two-month wave of protests against the government. Syrian rights activists say at least 700 civilians have been killed by security forces.
Villagers near Syria's southern city of Deraa said they had found two separate mass graves, containing up to 26 bodies. The government denied the existence of any mass graves, saying the reports were part of a "campaign of incitement" against authorities.
The government blames most of the violence on armed groups backed by Islamists and outside powers, saying they have killed more than 120 soldiers and police. Reuters