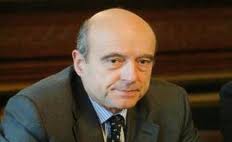 French Foreign Minister Alain Juppe said on Tuesday France and Britain were close to getting nine votes for a resolution on Syria at the U.N. Security Council, but Russia and China were still threatening to use their veto.
Syrian President Bashar al-Assad has used the army and police to try to crush weeks of pro-democracy protests that pose the boldest challenge to his family's 41 years of rule.
A European push for the U.N. Security Council to condemn Syria's crackdown on the protesters was blocked at the end of April by resistance from Russia, China and Lebanon.
Britain, France, Germany and Portugal had been seeking a U.N. statement on Syria. A statement does not carry the same weight as a Security Council resolution.
"We are still threatened by a Chinese and Russian veto, but it seems that a majority of nine votes is being decided as we speak and we are continuing to work on it," Juppe told parliament.
Permanent veto-wielding council members Russia and China have become increasingly critical of the U.N.-backed intervention to protect civilians in Libya, which they believe aims to oust leader Muammar Gaddafi.
"We have to first avoid a veto and then get nine votes … we have been fighting, with our British friends, for days and weeks, to arrive at the result," Juppe told parliament.
Nine of the council's 15 member states must vote in favor of the resolution without a veto-holder opposing the proposal for it to be adopted.
The European Union listed 13 Syrian officials on its sanctions list on May 10, including a brother of President Bashar al-Assad, but stopped short of French calls to add Assad to the blacklist.
"We haven't managed to ensure that the president is added to that list, but we are not giving up on that and continue to work toward that despite the reticence of some of our partners," Juppe said. Reuters
This error message is only visible to WordPress admins
Error: No connected account.
Please go to the Instagram Feed settings page to connect an account.