Nasrallah to make another appearance soon, CNA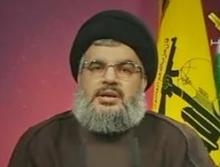 Sources told Central News Agency on Monday that Hezboullah chief Sayyed Hassan Nasrallah may make an appearance on TV via video link  in the upcoming two days to discuss the developments in the South and government formation process.
Al Manar TV the mouthpiece of Hezbollah reported earlier today that Nasrallah issued a statement in which he stressed that the return of Palestinian refugees to their homeland is a right and believed that it would be achieved soon.
Nasrallah lauded the courage of the protesters who marched on Nakba Day to Israel's borders with Lebanon, Syria and Gaza on Sunday for confronting Israel .
"Let no one fear ( Palestinian ) naturalization because of your firm decision is to return" to your homeland, Nasrallah said.
Nasrallah said the message of demonstrators was clear. "You are adamant to liberate your land no matter how many sacrifices you make and the fate of this (Jewish) entity is to fade."
Many analysts in Lebanon questioned the army's motive in allowing the Palestinian protesters to reach the borders with Israel and accused the army of colluding with Hezbollah. Several reports linked the protests yesterday to Iran, and Syria.
An Nahar asked in its editorial yesterday : Where is the state ?
Government formation
The Iranian and Syrian backed Hezbollah brought down PM Saad Hariri's government on January 12 over the Special Tribunal for Lebanon's (STL) imminent indictment which is widely expected to implicate Hezbollah members in the assassination of former PM Rafik Hariri in 2005.
Lebanon has been run by a caretaker government since last January. Nagib Mikati was appointed in January as the PM designate with the backing of the Hezbollah led-March 8 alliance, MPs Walid Jumblatt and Mohammad Safadi . March 14 leaders have repeatedly said that intimidation from Hezbollah's weapons helped secure the parliamentary majority for Mikati's nomination.
Former minister Wiam Wahhab a staunch ally of Hezbollah and Syria said Monday Following talks with Free Patriotic Movement leader Michel Aoun at his al Rabiyeh residence that the new majority is discussing legal ways to get rid of Mikati.
An Nahar sources who keep pace with the process of the formation of the Lebanese government reported that in the past two days there has been no contact between the parties concerned .
The sources also reported that the relations between some of the parties of the new majority and President Michel Suleiman and Prime Minister-designate Najib Mikati have deteriorated following the campaign waged by those parties against the president and the PM designate .
The sources said that the campaign ( against the president and the PM designate ) has Syria's blessing .
New obstacles came up after an agreement was reached on naming retired Brigadier Marwan Charbel as the Interior Ministry …. Aoun is strongly against allocating any share in the cabinet to president Suleiman . Aoun is also insisting on naming all the Christian Maronite ministers, the sources reported