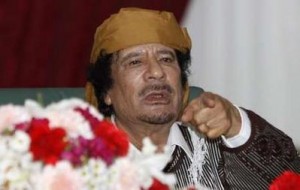 The International Criminal Court's prosecutor said on Monday he had requested arrest warrants for Libya's Muammar Gaddafi, his son Saif al-Islam, and intelligence chief Abdullah al-Senussi for crimes against humanity.
Following are details on Saif al-Islam Gaddafi and al-Senussi.
SAIF AL-ISLAM
– Educated at the London School of Economics and a fluent English speaker, Saif al-Islam had been seen by many governments before the revolt against his father's rule as the acceptable, Western-friendly face of Libya.
– He played a central role in negotiating the lifting of U.S. and European sanctions on Libya in 2004. Mainly through his charitable Gaddafi Foundation, he pushed for reform in Libya, including more media freedom, acknowledgement of past rights abuses and the adoption of a constitution. Some Libya-watchers say he was a possible successor to his father. He oversaw a reconciliation with Islamist rebels who launched an insurgency in the 1990s.
– But his efforts at reform were stymied by opposition from inside the ruling elite, and, some analysts say, from members of his own family. Last year the independent newspaper he helped to found was forced to mute its criticism of the authorities and his foundation withdrew from political activities.
– British think-tank the Quilliam Foundation said the revolt against his father's rule had changed Saif al-Islam's priorities. "Saif al-Islam Gaddafi, the heir apparent to Colonel Gaddafi … no longer aspires to lead a reformist wing within the government but has instead sided with the hardliners," it said in a report.
– In a speech on state television, Saif al-Islam said if protests did not stop "instead of mourning 84 (people killed), we will be mourning hundreds of thousands." Footage posted on YouTube showed someone looking like Saif al-Islam standing on top of a vehicle, with a rifle in his hand, urging armed supporters not to give up their fight.
– The director of the London School of Economics, Howard Davies, resigned over the university's ties to its former student. It had accepted a 300,000 pound ($500,000) donation from Saif al-Islam's foundation, a decision which Davies said had "backfired." The LSE is also investigating the authenticity of Saif al-Islam's PhD thesis, which was awarded in 2008.
– In an interview in Tripoli with Reuters on March 10, Saif al-Islam said: "We will never ever give up. We will never ever surrender. This is our country. We fight here in Libya."
ABDULLAH AL-SENUSSI
– Muammar Gaddafi's brother-in-law and a long-standing aide, al-Senussi is Libya's intelligence chief. He is already included on a U.S. Treasury Department blacklist of senior Libyan officials whose assets can be frozen if they are found inside U.S. jurisdiction.
– Al-Senussi was one of several Libyan officials who were convicted, in absentia, in a French court in 1999 over the bombing of a French airliner. The plane came down in Niger the previous year, killing all 170 people on board.
– Previous posts held by al-Senussi include director of Libya's military intelligence organization, and deputy chief of the external security organization. A leaked U.S. embassy cable from 2008 also described al-Senussi as playing a "significant role" as an adviser to Saif al-Islam Gaddafi.
– Soon after the revolt in Libya blew up, media reports said that al-Senussi had joined then-foreign minister Moussa Koussa in defecting. These reports about al-Senussi were later denied.
– A U.S. national security official said U.S. government agencies were aware that al-Senussi, together with Saif al-Islam, had been involved in making some peace overtures after the start of the revolt.
– Al-Senussi is a member of the Magarha tribe, believed to be the second-biggest in Libya. Abdel Basset al-Megrahi, the man convicted for helping blow up Pan Am flight 103 over the Scottish town of Lockerbie in 1988, is a member of the same tribe. According to U.S. embassy cables, published by the WikiLeaks site, al-Senussi asked U.S. diplomats to help smoothe the way for al-Megrahi's release from a Scottish jail, but they demurred. Al-Megrahi was released in 2009 and returned home to a hero's welcome.