Jumblatt says the new majority is 'retarded'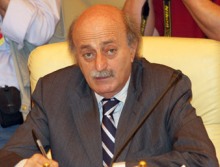 National Struggle Front parliamentary bloc leader leader Walid Jumblatt criticized the new Hezbollah led March 8 majority for its disability to form the cabinet, accusing it of being paralyzed.
Jumblatt said on Friday during the opening ceremony of the National Center for Development and Rehabilitation in the Shouf region that the politicians are the "retarded" ones for disagreeing over shares in the government while "the country is on the verge of collapse."
Jumblatt stressed that the Arab world is witnessing "revolutions and the future is unknown."
Informed sources told al-Liwaa newspaper on Saturday that the PSP leader is dissatisfied with the current cabinet formation deadlock.
"Jumblatt said that the political class is paralyzed. It failed to provide (the country with) the slightest means of stability and security… not being able to form the new cabinet," the sources said.
Jumblatt blamed
A March 8 source in remarks published in Al-Jumhuriya newspaper on Saturday accused Jumblatt of inciting the internal disputes within the new majority.
"The majority made a lot of concessions for someone who considers himself outside March 8, and insists on staying in the 'grey area'," the source told Al-Jumhuriya newspaper.
The source added that Jumblatt cannot remain in a neutral position while the time of neutral positions ended long time ago.
"The advice of Jumblatt is not all in its place," he also said.
Jumblatt , who was elected by March 14 voters during the 2009 elections officially defected to the Iranian and Syrian backed alliance last January.
Hezbollah brought down PM Saad Hariri's government on January 12 over the Special Tribunal for Lebanon's (STL) imminent indictment which is widely expected to implicate Hezbollah members in the assassination of former PM Rafik Hariri in 2005.
Lebanon has been run by a caretaker government since last January. Nagib Mikati was appointed in January as the PM designate with the backing of the Hezbollah led-March 8 alliance, MPs Jumblatt and Mohammad Safadi . March 14 leaders have repeatedly said that intimidation from Hezbollah's weapons helped secure the parliamentary majority for Mikati's nomination.
A dispute over the Interior Ministry portfolio between President Michel Suleiman and MP Michel Aoun was blamed for the delay in the formation of a new cabinet headed by Mikati.
According to analysts Syria is the main reason behind the delay. One analyst told Ya Libnan if "Syria really wants a cabinet , it could be formed within 24 hours "