Aoun launches another attack against Lebanon president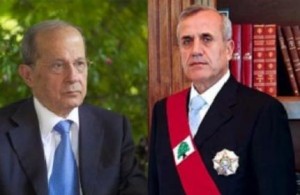 Free Patriotic Movement leader MP Michel Aoun launched another attack against Lebanese president Michel Suleiman saying he does not have the right" to demand any cabinet portfolios because he was "elected on a neutral basis" and "does not have any share in parliament."
Suleiman was elected as president in 2008 with 118 votes out of 127.
Aoun accused the president of being behind the attacks against FPM
Aoun told his guests on Saturday according to LBC : "After solving the Interior Ministry problem, they want to take over the other Maronite ministries to prevent FPM from obtaining them.
March 14 General Secretariat Coordinator Fares Soueid said Saturday that Aoun is intent on weakening President Suleiman as part of Hezbollah's plot to weaken the state.
"Aoun should know that when he weakens Suleiman's presidency, he weakens all of Lebanon," Soueid told Future TV
National Struggle Front parliamentary bloc leader leader MP Walid Jumblatt criticized the new Hezbollah led March 8 majority for its disability to form the cabinet, accusing it of being paralyzed.
"It failed to provide (the country with) the slightest means of stability and security… not being able to form the new cabinet," the sources quoted him as saying.
Jumblatt , who was elected by March 14 voters during the 2009 elections officially defected to the Iranian and Syrian backed alliance last January, making them the new majority.
Hezbollah brought down PM Saad Hariri's government on January 12 over the Special Tribunal for Lebanon's (STL) imminent indictment which is widely expected to implicate Hezbollah members in the assassination of former PM Rafik Hariri in 2005.
Lebanon has been run by a caretaker government since last January. Nagib Mikati was appointed in January as the PM designate with the backing of the Hezbollah led-March 8 alliance, MPs Jumblatt and Mohammad Safadi . March 14 leaders have repeatedly said that intimidation from Hezbollah's weapons helped secure the parliamentary majority for Mikati's nomination.
A dispute over the Interior Ministry portfolio between President Michel Suleiman and MP Michel Aoun was blamed for the delay in the formation of a new cabinet headed by Mikati.
According to analysts Syria is the main reason behind the delay. One analyst told Ya Libnan if "Syria really wants a cabinet , it could be formed within 24 hours because all the March 8 leaders get their orders from Syria "