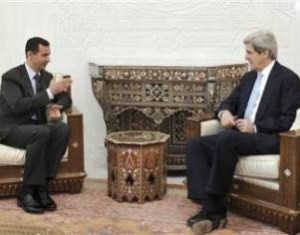 Now that Syrian President Bashar al-Assad has proven that he has no problem killing peaceful protesters in the streets, some of the most prominent advocates of engaging with his government are rethinking their views. That list now includes Senate Foreign Relations Chairman John F. Kerry (D-Mass.), who told The Cable that he no longer believes the Syrian regime is willing to reform.
Kerry, who has served as Congress's point man on engaging the regime, told an audience at the Carnegie Endowment for International Peace as recently as March 16 — shortly after the current uprising began — that he still expected Assad to embrace political reform and move toward more engagement with the United States and its allies.
The senator said his "judgment is that Syria will move; Syria will change, as it embraces a legitimate relationship with the United States and the West and economic opportunity that comes with it and the participation that comes with it."
But, in an interview, Kerry said he no longer thinks the Syrian government is willing to reform. Assad "obviously is not a reformer now," he said, while also defending his previous stance. "I've always said the top goal of Assad is to perpetuate his own regime."
When pressed by The Cable about his earlier, rosier view of Assad, Kerry denied that he had expected the Syrian regime would come around.
"I said we have to put him to the test. I've always said it's a series of tests," said Kerry, who has met with Assad six times over the past two years. "The chance was lost and that's the end of it."
In light of the current crackdown, during which more than 700 Syrians have been killed and thousands more have been arrested, Kerry acknowledged that the ship has sailed for U.S. engagement with the Assad regime.
"We can't [continue to engage] right now," he said. "This is an egregious situation. There are a lot of human rights abuses and we have to respond appropriately."
Meanwhile, those in the Senate who have always seen Assad as a despotic and cruel leader are claiming vindication.
Sen. John McCain (R-Ariz.) told The Cable that lawmakers' contention that Assad could be a reformer was "one of the great delusionary views in recent foreign policy history."
"It wasn't just Kerry, it was a whole lot of people, first of all the administration," McCain said.
Photo: File photo of  Senate Foreign Relations Chairman John F. Kerry (D-Mass.)  right   with Syrian President Bashar al-Assad in Damascus in April 2010