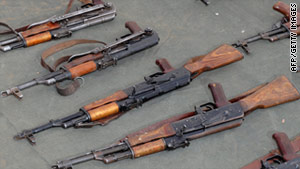 Iranian weapons banned for export under Security Council resolutions are making their way to Syria, according to a new report from the United Nations.
The leaked document, compiled by a U.N. panel of experts, says "most reported incidents of conventional arms-related violations involve Syria," and in "incidents inspected by the panel, prohibited material was carefully concealed to avoid routine inspection."
Iran has been targeted by several Security Council resolutions since 2007 focusing on specific activities, institutions, entities, and individuals related to "Iran's prohibited nuclear and missile activities, and conventional arms imports and exports," the report notes.
While the report says that sanctions "are constraining Iran's procurement of items related to prohibited nuclear and ballistic missile activity and thus slowing development of these programmes" it says that, at the same time, "Iran's circumvention of sanctions across all areas, in particular the use of front companies, concealment methods in shipping, financial transactions and the transfer of conventional arms and related materiel, is willful and continuing."
The panel found that Syria was the destination "of six out of the nine incidents of conventional arms transfers" by Iran that were discovered.
One example was reported by Turkish authorities inspecting a cargo plane that had stopped over in Turkey en route from Iran to Aleppo, Syria, in March.
"Arms were found onboard in nineteen crates declared as 'auto spare parts,'" the Turkish authorities said, according to the report. "They comprised 60 Kalashnikov rifles, 14 BKC (Bixi) machine guns, 7,920 rounds of Kalashnikov ammunition, 560 60 mm mortars and 1,288 120 mm mortars."
The report added, "It is likely that other transfers took place undetected and that other illicit shipments were identified but not reported to the committee."
The report says the Syrians have denied the allegations. CNN
This error message is only visible to WordPress admins
Error: No connected account.
Please go to the Instagram Feed settings page to connect an account.