Jumblatt heads again to Syria to discuss cabinet formation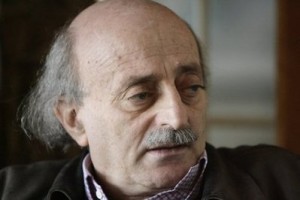 Progressive Socialist Party leader MP Walid Jumblatt told Al-Intiqad website in an interview published on Wednesday that he will head to Syria on Thursday to meet with Syrian officials, adding that "it is very possible that he will  discuss  the cabinet formation process with the Syrian leadership."
Jumblatt last visited Syria about 2 weeks ago .
Commenting on his recent statement criticizing March 8 for the delay in forming the cabinet he said this was out of concern for "the citizens' pain and difficult living situation." He added that "he made the statement to protect the Resistance ( Hezbollah) , its arms, national unity, and the Taif Accord.
The MP said that a cabinet must be formed to look after citizens' demands, and denied knowing any information related to talk that  a cabinet will be formed within 24 hours.
Jumblatt also said that the dispute with caretaker Prime Minister Saad Hariri is due to the campaign adopted by the latter over the rejection of non-state arms.
"It is important that there are arms to defend Lebanon from Israel. At the same time, the Resistance's arms must be integrated with the Lebanese army's based on a national-defense strategy." He said
Addressing the March 14 coalition, Jumblatt said "attacking the Resistance's arms will lead Lebanon to nowhere."
Commenting on the uprising in Syria , he denied talking to any members of the opposition
He said Syrian President Bashar al-Assad has accomplished a great part of the reforms he promised the Syrians, adding that Syria did a lot for Lebanon, as it defended it and protected the Resistance.
Commenting on the recently announced amendments of indictments by Special Tribunal for Lebanon by prosecutor Daniel Bellemare he said: "The amendments will not be able to affect the resistance ( Hezbollah) in any way and reiterated that " the tribunal has become politicized "
Jumblatt said on Monday that neither his PSP party nor his National Struggle Front parliamentary bloc can any longer cover up for the vacuum and obstruction of constitutional institutions by the new majority that has failed miserably in forming a new government.
Jumblatt was talking about the Hezbollah led March 8 alliance which is the new majority.
Jumblatt , who was elected by March 14 voters during the 2009 elections officially defected to the Iranian and Syrian backed alliance last January.
Hezbollah brought down PM Saad Hariri's government on January 12 over the Special Tribunal for Lebanon's (STL) imminent indictment which is widely expected to implicate Hezbollah members in the assassination of former PM Rafik Hariri in 2005.
Lebanon has been run by a caretaker government since last January. Nagib Mikati was appointed in January as the PM designate with the backing of the Hezbollah led-March 8 alliance, MPs Walid Jumblatt and Mohammad Safadi . March 14 leaders have repeatedly said that intimidation from Hezbollah's weapons helped secure the parliamentary majority for Mikati's nomination.
A dispute over the Interior Ministry portfolio between President Michel Suleiman and MP Michel Aoun is reportedly delaying the formation of a new cabinet headed by Mikati.