Italians evacuate Rome over 'big one' fears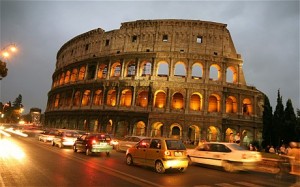 Businesses have reported requests from one in five people to have time off work and many are also keeping children away from school and heading to the beach or country for the day.
Romans are taking it so seriously that local newspapers have even been publishing survival guides with tips of what to do – if – the ground starts to tremble.
The panic has been fanned by Facebook, Twitter and text messages around a prediction by Raffaele Bendani, a seismologist who forecast in 1915 that a "big one" would hit Rome on Wednesday.
He is also said to have predicted other earthquakes which hit Italy during the last hundred years before his death in 1979.
Massimo La Rocca, headmaster of a school in the Trastevere district, said: "We have had quite a few parents calling in and saying they will not be sending their children in.
"I've told them the school will remain open and there is nothing to be scared about but they are adamant – although this is not a justifiable absence for a pupil."
A barman named Massimo said: "People have been talking about this for the last week. I know dozens who are taking the day off – I'm going to sleep in the camper van with the wife to be on the safe side."
Bendandi believed movement of plates and therefore earthquakes were the result of the combined movements of the planets, the moon and the sun and perfectly predictable.
In 1923 he predicted a quake would hit central Italy on January 2 the following year – he was wrong by two days.
For his work Bendandi was even given a knighthood by Fascist dictator Benito Mussolini – and ordered not to make any more predictions on pain of exile as officials feared he would create immense panic.
However seismologists have been quick to step in and say his theories are without any scientific proof and despite his claims earthquakes are completely unpredictable.
Seismologist Alessandro Amato, who works at the Italy's National Geophysical and Volcanology Institute, said:"There is absolutely no evidence to say that an earthquake will hit Rome on 11th May and we have told that to the hundreds of people who have called.
"There is a possibility that on the day in question the country as a whole will have an average of 30 or so tremors but that is perfectly normal and the figure we expect.
"It is not scientifically possible to predict the exact date that an earthquake will occur and that's why we are holding these open days at the Institute to better inform people."
An estimated 20 million people live at risk from earthquakes in Italy, which is also home to some of the most active volcanoes in Europe.
The Eurasian and African plates meet along a line which runs through North Africa and crosses the Mediterranean near south Italy and Greece. As a result, two main fault lines cut across the Italian peninsula. Memories are still vivid of an earthquake in the central Italian city of L'Aquilam which lies to the north of Rome, in 2009, which killed 300 people. Telegraph