Berri reports tangible progress in cabinet formation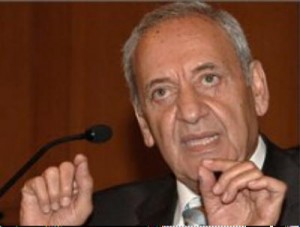 Lebanon Speaker Nabih Berri reportedly told lawmakers during his weekly meetings with them at the parliament building There is "tangible progress," .
He was referring to the formation of the cabinet .
"The atmosphere is better than before," Berri told reporters before entering the parliament building to hold talks with MPs.
The MPs quoted Berri as saying that there is a strong determination to form a cabinet.
Prior to his meetings at parliament, Berri met with President Michel Suleiman at the Baabda palace to discuss the general situation, especially the latest cabinet formation developments.
He later left Baabda without making any statement.
Free Patriotic Movement MP Walid Khoury said earlier on Wednesday that his leader, MP Michel Aoun, approved "the nominees suggested for the Interior Ministry portfolio ."
A dispute over the Interior Ministry portfolio between President Michel Suleiman and Aoun is reportedly delaying the formation of a new cabinet headed by Prime Minister-designate Najib Mikati.