An earthquake rocked south-eastern Spain, update
An earthquake of 4.5 degrees on Wednesday rocked south-eastern Spain, causing some damage but no injuries, officials said.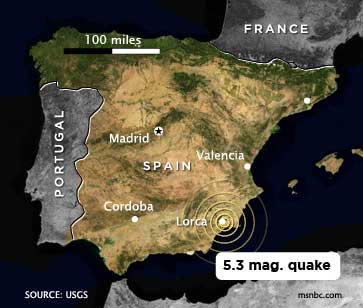 The tremor had its epicentre near Lorca in Murcia region. It damaged the facades of some buildings, and dislodged furniture inside homes, according to media reports.
Lorca residents rushed into the street in panic. The city of 100,000 residents suffered a quake of 4.7 degrees in 2005, when nearly 1,000 homes were damaged.
Update:
At least four people were killed when an earthquake hit the small town of Lorca in the southern Spanish region of Murcia on Wednesday, the town's mayor said in a radio interview.
"Unfortunately, we can confirm four deaths due to cave-ins and falling debris," the mayor of Lorca, Francisco Jodar, told radio station Ser.
The government also said it deployed military emergency units to the quake zone
Update No 2
Seven people were killed Wednesday when an earthquake struck southeastern Spain, the delegate of the government in Murcia told National Spanish Radio.
The 5.3-magnitude quake occurred at 4:47 p.m. (10:47 a.m. ET) and was centered about 50 kilometers (31 miles) southwest of Murcia, near the Mediterranean coast, the U.S. Geological Survey said. That is about 350 kilometers (218 miles) south-southeast of Madrid.
It was preceded at 3:05 p.m. by a 4.5-magnitude temblor centered in the same area, the survey said.