President Assad's wife fled to Britain, report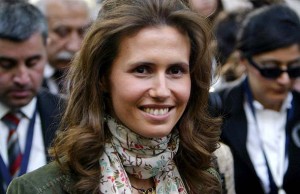 THE wife of Syrian dictator Bashar Assad has fled to London with the couple's three children, it is claimed.
Asma Assad is believed to be in a "safe house" in the capital with part of the £40billion her husband is said to have smuggled abroad.
The London-born first lady, 35, may have been in Britain for up to three weeks, according to sources.
Unrest yesterday escalated in Syria, where security forces rounded up hundreds of anti-government protesters. More than 600 civilians are reported to have been killed since pro-democracy protests swept the country in March.
The president's wife is reported to have been warned to "get out as soon as you can".
A high-ranking Arab diplomatic source said: "Her first reaction was clearly to get to London because she has her family there."
Her Syrian parents still live in Acton, West London, but she is said to be in a luxurious house elsewhere in the capital or the Home Counties. According to Arab news organisations, she has been living in secret in London for up to three weeks.
Asma was brought up in the capital and was known at school and university as Emma. Recently described by US Vogue as "a rose in the desert", she married President Assad in 2000.
Her husband, meanwhile, has caused international outrage by dispatching troops and tanks to crush the threat to his family's 40-year rule.
Security forces yesterday arrested hundreds of activists and anti-government protesters in a series of house-to-house raids. Gunfire was reported to have been heard in Damascus.
In Banias – home to one of Syria's two oil refineries where special forces backed by tanks entered on Saturday – more than 250 people are said to have been detained.
The unrest was triggered in March by the arrests of teenagers scrawling anti-government graffiti on walls.
Assad boasted his nation was immune from the uprisings sweeping the Arab world, but protests soon spread across the country of 23 million people.
Assad, who inherited power from his father in 2000, blamed "armed thugs" and "foreigners". The regime hit back with large-scale military operations, including an 11-day siege in Daraa that killed 50.