Jumblatt: The new majority has failed miserably in forming a new government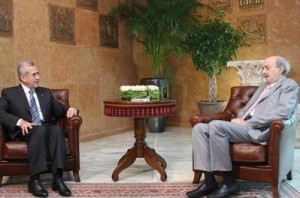 Progressive Socialist party MP Walid Jumblatt said neither his PSP party nor his National Struggle Front parliamentary bloc can any longer cover up for the vacuum and obstruction of constitutional institutions by the new majority that has failed miserably in forming a new government.
Jumblatt is talking about the Hezbollah led March 8 alliance which is the new majority.
Jumblatt held held talks on Monday with president Michel Suleiman on the government formation process and local developments. He left the meeting without issuing a statement.
Jumblatt , who was elected by March 14 voters during the 2009 elections officially defected to the Iranian and Syrian backed alliance last January.
Hezbollah brought down PM Saad Hariri's government on January 12 over the Special Tribunal for Lebanon's (STL) imminent indictment which is widely expected to implicate Hezbollah members in the assassination of former PM Rafik Hariri in 2005.
Lebanon has been run by a caretaker government since last January. Nagib Mikati was appointed in January as the PM designate with the backing of the Hezbollah led-March 8 alliance, MPs Walid Jumblatt and Mohammad Safadi . March 14 leaders have repeatedly said that intimidation from Hezbollah's weapons helped secure the parliamentary majority for Mikati's nomination
Hezbollah is reportedly creating obstacles for Mikati for insisting on including in the cabinet Faisal Karami , son of former PM Omar Karami as the representative of the Sunnis.
Hezbollah is also reportedly hiding behind MP Michel Aoun's renewed demand for the ministry of Interior even though it was agreed earlier in March that the interior ministry will go to the centrist bloc