Update on Lebanon cabinet formation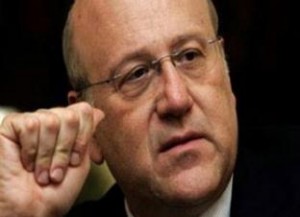 The Higher Islamic Legal Council issued a statement on Saturday after a meeting headed by Mufti Sheikh Mohammed Rashid Qabbani in which it commented about the delay in government formation , attributing it to the accumulation of "contradictory demands and conditions that violate national consensus and the constitution."
This was a possible reference to the demands by FPM leader Michel Aoun and Hezbollah
The statement called for "committing to national principles that the Lebanese asserted in the Taif Accord."
The council hoped that constitutional values would once again be respected in forming governments "on the basis of respecting Prime Minister-designate Najib Miqati's privileges."
Addressing Thursday's expected Islamic-Christian summit, the council hoped that it would pave the way for restoring the state's "absolute authority."
Free Patriotic Movement MP Walid Khoury told Voice of Lebanon on Friday that his bloc still trusts Prime Minister-designate Najib Mikati despite the delay in cabinet formation.
"There is still confidence in Mikati or else we would have said otherwise, however there are issues in the cabinet formation process that we don't yet understand," he said
Khoury's statement comes less than 48 hours after his boss (Aoun) accused Mikati of siding with the former ( March 14 ) majority
Khoury also said that if the March 8 coalition – which, he added, is "the new united majority" – was forming the cabinet, it would have been formed a while ago.
He added that there is no possibility of establishing a government of technocrats, saying such an idea was rejected from when Mikati was first designated. This was a possible reference to the de facto government that may be proposed by Mikati if consensus efforts fail
form it or quit
Mikati should resign if he is unable to form the cabinet, said Salim Salhab , another Free Patriotic Movement MP
"The only solution is for Mikati to see what is most fitting; either take the initiative and form the cabinet… or resign," he told Free Lebanon radio on Friday.
"The cabinet will not be formed soon as far as we can tell ," said Salhab, adding, "The problem is complex and the obstacles are emerging gradually." The MP said he questions the "positive statements" released by the PM-designate.
Salhab also said that the problem is not the Interior Ministry, but that there are other issues. However, he did not elaborate further.
Mikati meetings
Mikati has reportedly shelved plans to form a de facto government for the time being and vowed to give the cabinet formation process more time after talks with Speaker Nabih Berri, Progressive Socialist Party leader Walid Jumblatt and other mediators on Thursday.
Mikati met Thursday night with Berri, Jumblatt, the speaker's aide MP Ali Hassan Khalil, and Hezbollah's chief aide Hussein Khalil.
Mikati also held talks with former MP Nazem Khoury, a political adviser to Suleiman, to discuss new ideas to end the deadlock. Baabda palace sources refused to discuss the details of the proposal, but told As Safir newspaper that "things began to heat up."
Berri told An Nahar daily after his meeting with Mikati that he "won't say a word." But the newspaper said that the speaker will continue his efforts to bring the viewpoints of different parties closer.
As for Jumblatt, he said his talks with the prime minister-designate focused on "the formation of the government which has become necessary at the level of the economy, politics, security and the region."
According to An Nahar, Jumblatt tasked Caretaker Minister Ghazi Aridi with making the necessary contacts to contribute to the cabinet formation process.
Despite the meetings held between Mikati and the different parties in the past 24 hours, informed sources told An Nahar newspaper that each side is still holding onto its stance.
According to Aoun's circles, the FPM leader reacted positively to a new proposal by mediators of new names to head the interior ministry to replace Caretaker Minister Ziad Baroud.
According to al-Liwaa, three personalities are suggested as possible interior ministers but the involved officials have vowed full secrecy to guarantee the success of the initiative.
Incapable
Minister of Social Affairs Selim Sayegh said on Saturday that Mikati is incapable of forming a cabinet and held the "new ( Hezbollah led March 8 ) majority responsible for the political, economic and social repercussions as a result of the delay ."
"Prime Minister-designate Najib Mikati is incapable of forming a cabinet. He is no longer viewed as an agreeable figure by the party that nominated him for the premiership ." In reference to the Iranian and Syrian backed Hezbollah militant group
When asked about the talk of a de facto government of technocrats Sayegh said:
"We support any solution that saves Lebanon. The Phalange Party… is not convinced that a cabinet of technocrats will save Lebanon. We do not want half solutions "
Military role
Labor Minister Boutros Harb told the Voice of Lebanon radio station on Saturday that he is against granting Lebanese Armed Forces commander General Jean Kahwaji the Interior Ministry portfolio.
His comment comes after reports circulated that President Michel Suleiman suggested a military figure for the Interior Ministry portfolio.
Commenting on the dispute between Aoun and the president he said:
"The dispute between Suleiman and Aoun began when the former was elected as president."
"Instead of facilitating Mikati's task of forming a cabinet, March 8 attempted to stage a coup against the constitution." Harb added
Regional influence
"It is clear that there is no regional intent to form a cabinet in Lebanon . If there had been, a visit to Aoun would have ended all complications," March 14 MP Ammar Houri told Future News television on Saturday.
Forming a cabinet is up to President Suleiman and the Prime Minister-designate Houri said
He added that it is clear that Mikati understands the current challenges and that Slueiman will not sign off on a decree approving a cabinet that may cause imbalance.
Regarding Aoun's verbal "attack" on the president, Houri "saluted Suleiman for his patience "
"We reject harming the presidency… Delay in cabinet formation is due to regional changes that have engaged those forming a cabinet in a phase of worry." In a possible reference to the unrest in Syria