Iranian leader gives Ahmadinejad ultimatum over spy chief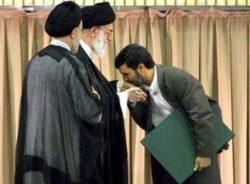 Iran's Supreme Leader Ayatollah Ali Khamenei has given President Mahmoud Ahmadinejad an ultimatum over the reinstatement of the country's intelligence chief, a local website reported Friday.
Khamenei, who, according to the constitution, has the final say on all state affairs, last month vetoed Ahmadinejad's decision to dismiss Heydar Moslehi.
The website Ayandeh quoted presidential advisor, Morteza Aqa-Tehrani, as saying that in a meeting this week between Khamenei and Ahmadinejad, the ayatollah has pushed the president to either accept Moslehi or resign.
Ahmadinejad has not yet made a final decision on the supreme leader's ultimatum, Agha-Tehrani added.
Neither official sides nor local media have yet confirmed the report by the website Ayandeh.
Khamenei firmly supported Ahmadinejad following his 2009 re-election, a vote that was overshadowed by accuations of election fraud.
Local media speculated the dispute between the supreme leader and the president was going beyond the case of the intelligence chief.
Observers say that the main dispute between the president and the religious leaders is Ahmadinejad's chief of staff, Esfandiar Rahim-Mashaei.
Mashaei is said to oppose the clergy-dominated framework of the Islamic republic's establishment and favours of a more nationalistic approach in running the country.
Due to Ahmadinejad's firm support for Mashaei, clergy circles accuse the president of trying to undermine the Islamic dimensions and principles of the country's ruling system. m&c