Over 1000 anti-regime protesters detained in Syria
More than 1,000 people have been detained across Syria since Saturday in security crackdowns aimed at quelling the popular uprising against President Bashar al-Assad, news reports quoting human rights groups and pro-democracy activists said Tuesday.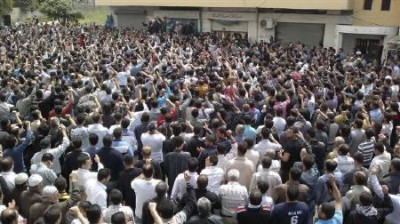 Reports say the detainees, mostly men aged between 18 and 40, were arrested in door-to-door searches carried out by Syrian security forces in towns and cities across the country since Saturday. The crackdown came after thousands took to the streets on Friday to stage a 'day of rage' protests against the government.
A day earlier, State-run Sana news agency reported that security forces had tracked down several "terrorist groups" in the southern city of Deraa, killing about ten and arresting 499 suspected terrorists in raids. At least two security personnel were killed in clashes during the raids.
Human rights agencies, however, claim that more than 70 people have been killed in crackdowns carried out in Deraa by security forces since Friday. In addition, the Syrian Interior ministry has set a deadline of May 15 for protesters who had committed "unlawful acts" to surrender.
Separately, there were unconfirmed reports on Tuesday that the Syrian security forces have surrounded the coastal city of Baniyas, blocking the northern and southern entrances to the city. Reports citing anti-government activists in the city say the government has armed its supporters in nearby villages to help in the crackdown.
Anti-government protests first began in Deraa in mid-March, before spreading quickly to other towns and cities across the country, including Damascus, Homs, Baniyas and Harasta. Since then, thousands of people have been arrested by security forces across the country.
Earlier this month, the government scrapped the nearly half-a-century old emergency laws, one of the key demands of the anti-government protesters, and passed a bill regulating the right to peaceful protest. But the Interior Ministry warned that it would not tolerate mass anti-government protests, dubbing them as "armed insurrection."
Rights groups estimate that more than 560 people have been killed in police crackdowns since the pro-democracy protests began on March 15. The ongoing unrest is seen as the most serious challenge to Assad's rule in Syria since he came to power eleven years ago, succeeding his father Hafez al-Assad who ruled the Arab country for three decades.
Hundreds of members of the ruling Baath Party, mostly in the cities of Deraa and Baniyas, had resigned from the party last week to protest against the government's violent response to the unrest. There are also unconfirmed reports of divisions in the military in wake of the brutal crackdowns.