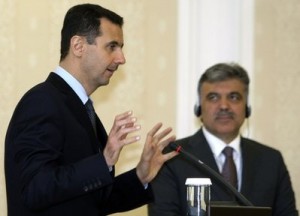 President Abdullah Gül said on Monday that Turkey, which shares a long border with Syria, is preparing for "a worst case scenario," in an apparent reference to a possible influx of large numbers of refugees from Syria.
"We are trying to make a constructive contribution for reforms and to have a transition take place to meet the legitimate demands of the people," Gül said in response to a question at a press conference in Ankara ahead of his departure on an official visit to Vienna.
"It goes without saying, we are also taking measures to prepare for a possible worst case scenario. In this context, as you know, around 300 Syrian citizens [recently] have already crossed the border to seek refuge in Turkey. As measures were in place, they were transported to a place where they could be accommodated, and they have been accommodated," Gül added, referring to the fact that Turkey already had set up a small camp in southern Hatay province for 263 Syrians who fled their country on Friday.
Those 263 Syrian citizens, including women and children, were waiting in Hatay for a decision to be made by Turkish officials, the Anatolia news agency reported on Monday. Most of them want to remain in Turkey, Anatolia noted.
As of noon Monday, the Syrians were allowed to meet with next of kin living on the Turkish side of the border and Turkish citizens, Anatolia said.
Turkey shares a 545-mile (877-kilometer) border with Syria, much of it heavily mined. Some Turkish commentators warned of an influx of refugees fleeing from Syria to Turkey, but presently there are no signs of a major exodus.
The Syrians who arrived Friday from border villages were the first such group of self-declared refugees, adding to Turkey's concerns about its neighbor, where activists say more than 450 people have been killed since the uprising began mid March.
Ever since 2000, during religious public holidays people in Syria and Turkey have been able to visit their relatives across the border, as both countries took necessary measures to ensure cross-border visits could proceed without any hassles. Then in September 2009, following a decision by Syrian President Bashar al-Assad and Turkish Prime Minister Recep Tayyip Erdoğan during the former's visit to İstanbul on Sept. 16, the two neighbors mutually canceled visa requirements for their respective citizens. Accordingly, passport-holding Turkish citizens no longer need an entry visa to visit Syria for tourism for up to 90 days; and vice versa, Syrian citizens carrying valid passports of any kind can travel to Turkey without requiring an entry visa as long as their visit does not exceed 90 days.
Over the weekend, in response to a question about whether Turkey has been planning to temporarily suspend the visa-free regime with Syria, Foreign Minister Ahmet Davutoğlu said: "No, it is out of question. In this regard, we don't take back the steps that we have taken. We have stated that we will lift everything that stands as a barrier between our people. What matters is the eternality of the friendship between the people of Turkey and Syria and that they open their hearts, doors and homes to each other forever." todays zaman