New Details Emerge About Killing Of Bin Laden
The U.S. was prepared to take Osama bin Laden alive during a raid on a compound north of Islamabad, a top administration official said Monday as President Obama declared it "a good day for America."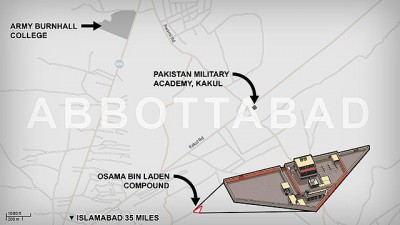 Bin Laden, the driving force behind the Sept. 11, 2001, terrorist attacks that killed thousands of people, was killed by a small team of U.S. Navy special forces during a 40-minute operation at a compound in the Pakistani town of Abbottabad, north of the capital, Islamabad.
Navy SEAL Team 6 used four helicopters to swoop down on the three-story, fortress-like compound early Monday, officials said. A firefight erupted, and bin Laden was shot in the head. Several other adults also were killed, including one of the al-Qaida leader's sons and a woman who reportedly was used as a human shield. One helicopter was lost in the operation because of a mechanical failure and was destroyed by the crew, who flew out in the remaining three choppers, along with bin Laden's remains.
A senior intelligence official told reporters at a Pentagon briefing Monday afternoon that bin Laden's body was transported to the aircraft carrier USS Carl Vinson in the north Arabian Sea. It was washed in accordance with Islamic practices and placed in a white sheet and then put in a "weighted bag," the official said.
A military officer read prepared religious remarks that were translated into Arabic by a "native speaker" who was not further identified by the intelligence official. The body was then placed on a "prepared flat board, tipped up, whereupon the deceased's body eased into the sea," the official said.
White House officials were mulling the merits and appropriateness of releasing a photo, but senior administration officials said that DNA testing alone offered a near 100 percent certainty that bin Laden was among those shot dead. Photo analysis by the CIA, confirmation by a woman believed to be bin Laden's wife on site, and matching physical features like bin Laden's height all helped confirm the identification.
Bin Laden's Support Network
John Brennan, President Obama's top terrorism adviser, said Monday it was "inconceivable" that bin Laden did not have a support network in Pakistan sheltering him.
Brennan said that while the possibility of capturing bin Laden alive was considered remote before the assault, "if we'd had the opportunity to take him alive, we would have."
Brennan said that instead, bin Laden and his associates in the compound resisted, though it was unclear if the terrorist leader himself "got off any rounds" himself before being shot in the head and killed.
The opulent surroundings enjoyed by bin Laden in a million-dollar compound, as well as his apparent willingness to use one of his wives as a human shield, "speaks to how false his narrative has been over the years," Brennan told reporters at the White House.
Obama and top White House officials monitored the operation in "real-time visibility," he said, adding that moments when the success or failure of the operation hung in the balance — such as when the helicopter had to be abandoned due to a mechanical failure — were "anxiety-filled."
Although the compound had been under scrutiny for months, it was not clear whether bin Laden was there when the assault was initially launched, and there was some disagreement over whether to go ahead with the operation, Brennan said.
When Obama gave the green light, he "made what I believe is one of the most gutsiest calls of any president in modern history," Brennan said.
Brennan defended the decision to bury bin Laden at sea, which he said was one of several contingencies planned for in advance.
"It was determined that it was in the best interest of all involved in accordance with Islamic law," which required the body to be buried within 24 hours. He said it would have taken too long to find a country willing to inter bin Laden, given his infamy.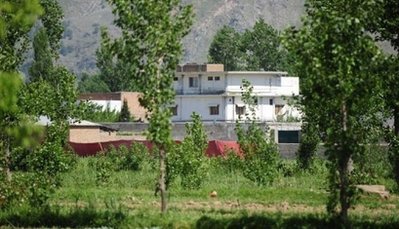 Speaking at the White House, Obama said bin Laden's death showed that the United States had kept its commitment to seeing that justice is done.
"We can all agree this is a good day for America," the president said during a Medal of Honor ceremony in the East Room. "The world is safer."
Officials Warn Of Retaliation
In a memo to CIA employees on Monday, the agency's director, Leon Panetta, hailed the demise of "the most infamous terrorist of our time," but he warned that "terrorists almost certainly will attempt to avenge" the killing of their leader.
"Bin Laden is dead. Al-Qaida is not," Panetta said.
Secretary of State Hillary Clinton echoed those remarks, saying the threat from al-Qaida "will not end with the death of Osama bin Laden."
"The fight continues, and we will never waver," she said, adding in a direct message to bin Laden's followers, "You cannot wait us out."
House Speaker John Boehner (R-OH) called bin Laden's death "an important moment in the war against radical extremism and terrorism." Sen. Joseph Lieberman, the chairman of the Senate Homeland Security Committee, said Pakistan must demonstrate that it had no knowledge of bin Laden's whereabouts.
"This is going to be a time of real pressure" on Pakistan "to basically prove to us that they didn't know that bin Laden was there," Lieberman (I-CT) said at a news conference.
On the streets of Washington, people like Edith Briggs said they shared a sense of relief, but also some nervousness over the possibility of retaliatory terrorist attacks.
"I am very happy, but I am also on guard because I think they are going to try something," she said in reference to al-Qaida. NPR