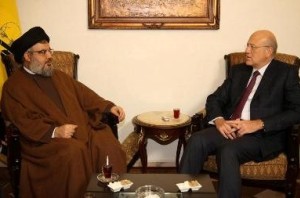 Kuwaiti al-Anbaa newspaper reported on Sunday that Prime Minister-designate Najib Mikati held talks on Friday with Hezbollah Secretary General Sayyed Hassan Nasrallah in an undisclosed location soon after meeting with Lebanese president Michel Suleiman .
Suleiman's visitors have stated that the concerned sides in the government formation process "don't have a real intention to reach a solution" to the governmental vacuum.
Hezbollah did not release any statement about the Nasrallah Mikati meeting .
Interior ministry issue
A key issue in the government formation is the dispute between Suleiman and FPM leader MP Michel Aoun over the ministry of Interior which is currently being held by caretaker Caretaker Interior Minister Ziad Baroud who represents Suleiman. Aoun , backed by Hezbollah has been demanding this ministry and has been opposed to any share in the cabinet for Suleiman. Suleiman on the other hand insists that this portfolio should not be given to any extremist political group and should be held by a centrist .
Baroud who was praised as one of the best interior ministers that Lebanon has ever had is aware that he is not the issue and that the problem is between aoun and Suleiman
Baroud announced on Saturday that he had informed President Michel Suleiman three months ago of his intention not to be reappointed as a minister.
He added: "I will not allow myself to stand as an obstacle in the government formation process as the media has been lately trying to demonstrate."
"I requested from Suleiman that I not be granted the Interior Ministry portfolio in the new government, or any other portfolio," he continued.
"I am not shying away from my responsibilities, especially since I have fully assumed my duties despite the hardships, most notably in organizing the parliamentary elections during severe political divisions in Lebanon," he said.
"There are several qualified individuals in Lebanon who should be given the opportunity to assume this role," the minister stressed.
Minister Salim Sayegh confirmed baroud's position during an interview with VOL on Sunday: "Baroud never sought to become a minister. The real problem lies in granting Suleiman the Interior Ministry portfolio."
Possible candidates
An Nahar reported on Sunday that Army Commander General Jean Kahwaji suggested the names of four high-ranking officers to Mikati as possible candidates to head the Interior Ministry.
Sources told Al-Hayat in remarks published on Sunday that General Paul Matar, the deputy for army planning, is among the names suggested by Kahwaji.
Weakened PM
Education Minister Hassan Mneimneh said on Sunday that Hezbollah wants to weaken the premiership by turning the prime minister "into merely a witness in the cabinet."
He also said that it is difficult to form a cabinet at the moment.
"It is not true that the arguments between those involved in forming a cabinet are over ministerial shares. The dispute is based on each party's vision of what they want from the cabinet."
Current events in Syria affect the cabinet formation process since Syria remains a major party in the formula of cabinet formation, Mneimneh also said.
"Syria, at the time being, does not want to appear supportive of forming a one-sided cabinet in Lebanon because this may affect its relations with many Arab countries."
"All these domestic and foreign elements drive one to believe that it will not be easy to form a cabinet, unless events in Syria speed up the cabinet formation process due to the need for a 'confrontation' cabinet."
Aoun
Change and Reform bloc MP Alain Aoun told New TV on Sunday that the president's position is no longer neutral on the political level and is now considered an adversary to FPM
"President Michel Sulemian held on to Interior Minister Ziad Baroud when our bloc demanded to have his portfolio. Suleiman's stance is no longer impartial as he engaged in direct political debate with us."
The MP also said that the problem is not with Baroud, but with having the Interior Ministry as part of Suleiman's share.
Zahra
Lebanese Forces bloc MP Antoine Zahra said on Sunday that the only thing March 8 parties agreed on is excluding March 14 and outgoing Prime Minister Saad Hariri from power. he added " It clearly appears that the March 8 parties have nothing in common regarding the government formation" , National News Agency reported.
The The Iranian and Syrian -backed Hezbollah brought down PM Saad Hariri's government on January 12 over the Special Tribunal for Lebanon's (STL) imminent indictment which is widely expected to implicate Hezbollah members in the assassination of former PM Rafik Hariri in 2005.
Hezbollah is reportedly creating obstacles for Mikati for insisting on including in the cabinet Faisal Karami , son of former PM Omar Karami as the representative of the Sunnis.
Hezbollah is also reportedly hiding behind Aoun's renewed demand for the ministry of Interior even though it was agreed earlier in March that the interior ministry will go to the centrist bloc of President Suleiman, Mikati and MP Walid Jumblatt.
President Suleiman is reportedly fully aware of Aoun's intentions and for this reason he will not allow Aoun to control the ministry of interior under any circumstances. After all, one analyst told Ya Libnan last month : "Awarding the ministry of interior to Aoun will put the whole internal security of Lebanon under Hezbollah's direct control. Such a situation will be extremely dangerous for Lebanon and will turn Lebanon into another Gaza or Somalia ."
More updates:
MTV reported that the candidates for the interior ministry portfolio, including Brig. Gen. Paul Matar, have not been approved until now by the president, who is insisting that the interior ministry should be neutral and for all the Lebanese.