Israel urged to buy U.S. rocket defenses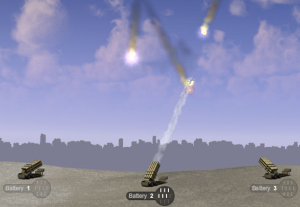 Amid Israeli concerns of a new war with Hezbollah and other foes, there are doubts the anti-missile systems Israel's defense industry has produced or is developing will be adequate to defend the nation against sustained missile and rocket attack.
One of the country's leading missile-defense experts, Nathan Farber, says that the cost of developing, deploying and operating these systems is prohibitive.
He also said that it will take years to provide enough anti-missile batteries to cover the country, time that Israel may not have as things stand in the region.
"This is a plan based on fantasy that has no practical justification," said Farber, a former ballistic missile specialist at Israel Military Industries and now a lecturer at the aerodynamics faculty of the Israel Institute of Technology in Haifa.
He urged the government to buy U.S. laser weapons, such as the Skyguard system built by Northrop Grumman, or a variant of the U.S. Vulcan-Phalanx rapid-fire gun system. That has been proven in combat in Iraq and Afghanistan.
After lengthy deliberation, Defense Minister Ehud Barak decided in April 2009 to acquire Vulcan-Phalanx but the plan was dropped, apparently for political reasons, to rely on Israeli systems.
Farber argued that the U.S. systems would greatly extend the capabilities of Israel's anti-missile defenses to most of the country within 18 months of signing a contract, instead of 2-3 years if the military depends on indigenous weapons.
The Vulcan-Phalanx is a close-in weapons system initially designed by the General Dynamics Corp, now part of the Raytheon Corp., for the U.S. Navy to shoot down anti-ship missiles.
The land-based variant is known a the Centurion C-RAM, a radar-guided 20mm M61A1 Gatling Gun with a firing rate of 4,500 rounds per minute.
It costs $25 million per unit. Each battery of the Iron Dome anti-rocket system developed and built by Rafael Advanced Defense Systems now being deployed costs $80 million.
A parliamentary committee headed by former Defense Minister Amir Peretz says Israel needs at least 13 Iron Dome batteries to defend population centers in the north on the Lebanese border and in the south facing the Hamas-held Gaza Strip.
Israel has deployed two batteries and four more are scheduled to be built with $205 million in special U.S. aid.
But using indigenous systems is expected to cost Israel several billion dollars at a time when the defense budget is strained to the limit.
As it is, the cost of operating Iron Dome, which fired interceptor missiles at the short-range rockets used by Lebanon's Hezbollah and Hamas' Palestinian militants, is prohibitive.
Every Iron Dome interceptor costs around $50,000 while the projectiles it shoots down cost a fraction of that. Critics argue that Israel's foes could bankrupt the country by firing huge numbers of these low-cost rockets.
That's something of an exaggeration. Iron Dome's computer is capable of determining from the trajectory of an incoming rocket whether it is going to hit a populated area and the system could ignore those that aren't.
In Iron Dome's limited debut in southern Israel in March it shot down nine missiles heading toward the cities of Beersheba and Ashkelon but hasn't been fully tested in protecting towns closer to the border, where the rockets' flight time is much shorter, or against mortar rounds. The C-RAM downed mortar shells in Iraq.
Farber noted that in Israel's 34-day war against Hezbollah in the summer of 2006, the Iranian-backed guerrillas fired some 1,000 short-range Katyusha-type rockets at Kiryat Shmona a few miles from the northern border.
That was about one-quarter of the barrage of rockets Hezbollah unleashed against northern Israel during the conflict, against which the Israelis had no defense.
"Five hundred hit targets," Farber observed. "According to the scenario for the next war, Kiryat Shmona can expect 4,000 rockets. An Iron Dome battery … would be able to deal with just a small fraction of them."
That sort of battering would take place in other northern cities and towns, including the port of Haifa, which was hit during the 2006 war.
In 2006, Hezbollah possessed an estimated 12,000 rockets, mostly short-range weapons.
These days, Israel estimates Hezbollah has more than 42,000. These include hundreds of long-range missiles that can hit anywhere in the Jewish state in a sustained bombardment of unprecedented proportions.UPI