Assad supporters call Al Jazeera 'Jewish satelite TV'
About 100 supporters of Syria's president, Assad, gathered in front of the Damascus offices of Al Jazeera TV. The crowd accused the satellite TV station of supporting the opposition movement in Syria.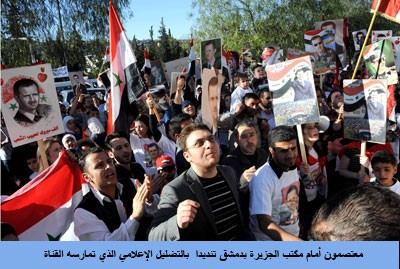 The Qatar network, according to Assad loyalists, broadcasts "lies" and "exaggerates" the nature and the volume of the anti-regime protests.
"Al-Jazeera, Jewish satellite TV", was written on several banners, while others incited the, "people of Qatar, rebel against the Emir" of Qatar al Khalifa, where the network has its headquarters. .
"Why are you silent in Bahrain and picking on Syria?", another placard could also be read with reference to the timid coverage by the Qatari channel of the protest movement in the kingdom .
The Facebook group, The Syrian Revolution 2011, which emerged as the organizing force behind the demonstrations that have been demanding "freedom" in Syria reported that 6 people were killed today in Daraa the flashpoint of the Syrian Revolution
The group also reported that 588 protesters have been killed by the Syrian security forces and the army since the uprising started on March 15.