US Senator: Assad has 'lost his legitimacy'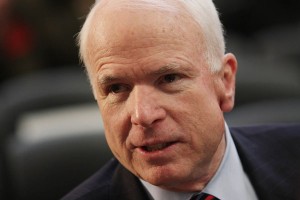 Influential US Senator John McCain declared Wednesday that Syrian President Bashar al-Assad has "lost his legitimacy" and called for UN sanctions to force him to halt attacks on his people.
But McCain told AFP he could not see any opening for US military action to topple the Syrian regime, and regretted that Assad was not yet facing an armed revolt like the one fighting to oust Libya's Moamer Kadhafi.
"I obviously think he has lost his legitimacy. He has ordered his army to fire on his own people, and yes I think he should leave," McCain said in an interview at the US embassy in Paris.
"I don't see how militarily we can have an effect there," he said, calling instead for "UN sanctions, individual sanctions, all of the non-military actions that we can take, which would then put enormous pressure on him.
"In Libya, even if it was a rag-tag group, at least we had a military force that was fighting against Kadhafi. We don't have that in Syria," he said.
"We don't have a group, even an embryonic one, that we could assist through air power or ground power. And I regret saying that, in a way, because the Syrian people are being subjected to terrible brutalities."