Update on Lebanon cabinet formation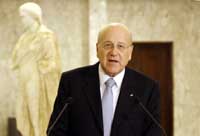 PM-designate Nagib Mikati sources told OTV that he has 2 cabinet line-ups in his pocket ever since he was appointed . " The First list includes politicians and technocrats and the 2nd is technocratic only . He's exhausting all possible contacts, but he'll take a decision at the right moment."
Former minister Wiam Wahab, a staunch ally of Syria and Hezbollah told OTV " if March 8 wants a real man to head the cabinet they should ask ( former PM ) Omar Karami, who is in good health . March 8 did not pick Karami last January because it did not have enough votes …. Mikati was going to vote for Hariri."
Commenting on the dispute between MP Michel Aoun and president Suleiman over the ministry of interior Wahab also said:
"Minister Ziad Baroud is one of the best ministers, but the president has left him unprotected in the face of security institutions, allowing Maj. Gen. Rifi to become the country's ruler."
Presidential palace sources told MTV: "The dispute over the interior ministry portfolio is not the only obstacle hindering cabinet formation as no agreement has been reached on the final distribution of several portfolios, including the education and justice portfolios."
Speaker Nabih Berri sources told MTV: All sides should make concessions to end the current impasse and the parliament speaker's only concern is the formation of a new cabinet.
The speaker told the parliamentarians today that failure to establish a Lebanese government would negatively affect Lebanese-Syrian ties.
MP Khaled al Dhaher told MTV: " March 8 campaign against Mikati means the group has lost its patience ….and whenever they are pressured they try to destabilize internal security."
March 14 General Secretariat coordinator Fares Soueid addressed the government formation process. He said : "The March 8 camp is demonstrating its complete political ineptness after it failed to form a Cabinet."
"The March 14 camp is the only political group that has a central agenda to save Lebanon," he stated.
Soaid added that eliminating the possession of illegitimate arms will end Lebanon's crisis.
"The March 8 camp is viewing the developments in the region and it is therefore afraid to form a new government," he stressed.
Mikati's office in Beirut was evacuated after receiving a hoax bomb threat but security agencies inspected the office using sniffer dogs and did not find any explosives, As Safir reported.