Venezuela's Chavez sides with Syria's Assad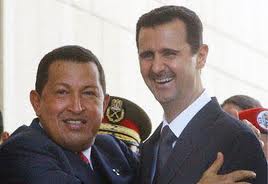 Venezuelan President Hugo Chavez lent his support to embattled Syrian leader Bashar al-Assad on Monday, blasting what he called attempts by western powers to oust him by force.
"From here we greet president Bashar al-Assad," Chavez said, after witnesses reported that Syrian troops backed by tanks had rolled into the town of Daraa, the epicenter of recent anti-regime protests, killing at least 25 people.
"Terrorists are being infiltrated into Syria and producing violence and death — and once again, the guilty one is the (Syrian) president, without anyone investigating anything," said Chavez.
He gave no further details to support his claims.
Chavez, a close Assad ally in Latin America, criticized the "imperial madness" of the international community which, according to him, seeks to attack Syria under the pretext of defending its people.
"They're starting to say: 'Let's see if we sanction the government, we're going to freeze their assets, we'll blockade them, throw bombs on them, in order to defend the people.'
"Wow, what cynicism. But that's the empire, it's imperial madness," he said.
When Chavez talks about "the empire," he is usually referring to the United States.
While critics say Damascus is using its troops to crush dissent, the Syrian army said that citizens invited the soldiers into Daraa to hunt "extremist terrorist groups."
Some 390 people have been killed in security crackdowns since the protests erupted in Syria, rights activists and witnesses say.
Chavez has also backed embattled Libyan leader Moamer Kadhafi, and slammed international military action against Libya as an oil grab by Western powers.
In March, Chavez proposed creating a multinational mission to find a peaceful resolution in Libya. Rebels battling Kadhafi's forces rejected Chavez's proposal. Zawya