Jumblatt urges Assad to implement reforms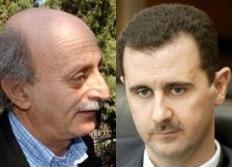 Progressive Socialist Party leader MP Walid Jumblatt urged Syrian President Bashar al-Assad to to implement the reforms he announced recently that protect the right to peaceful protest"
In his weekly article in PSP's newspaper Jumblatt wrote:
"As Syria's friend and ally, since a long time except the period from 2005 a to 2009 … I urge President Assad to implement his previous resolutions on protecting the right to peaceful protest and freedom of speech and to quickly launch a broad dialogue with the various political, syndical, social and economic sectors and the representatives of the civil society to discuss the means to overcome this critical political period."
Assad ended Syria's state of emergency, in effect for nearly 50 years, last Thursday in a bid to defuse pro-democracy protests against his authoritarian rule that have gripped the country for over five weeks.
Assad also endorsed legislation that regulates protests and dissolves a state security court which lawyers say violated the rule of law and the right to a fair trial.
He also signed legislation that will allow the naturalization of kurds
Jumblatt , who was elected by March 14 voters during the 2009 elections defected to the Iranian and Syrian backed March 8 alliance last January.
Jumblatt urged the Syrian leaders to seriously investigate the recent unrest in Syria and hold those responsible accountable, whether they are security, military or administrative officials or conspirators against Syria's stability and security.
Jumblatt also called for "engaging in a responsible dialogue in order to address the political and popular demands and find ways to implement what's rightful and reasonable of them, in a manner that would allow Syria to restore stability and preserve its national unity and Arab and regional roles."
Syrian President Bashar al-Assad has been facing the biggest challenge to his rule. Popular protests demanding greater freedoms and an end to corruption erupted over five weeks ago in southern Syria and spread to the capital Damascus and most cities in Syria.
Just like the Egyptian, Tunisian and Libyan regimes the Syrian regime has been blaming foreigners for the protests. Last week the Syrian regime accused a Lebanese Future movement legislator of funding and arming the opposition to fuel a wave of protests in the country, a charge that was repeatedly denied by the party and MP Jamal al Jarrah.
The Syrian Army stormed the city of Daraa on Monday with tanks and soldiers in an escalation of the crackdown on Syria's five-week-old uprising, according to residents and human rights activists. They said at least 25 people had been killed in Daraa on Monday , with reports of bodies strewn in the streets.