Bahrain expels Iran diplomat over 'spy link'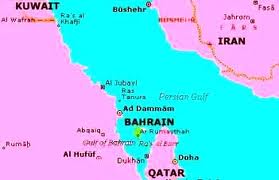 Bahrain has ordered the expulsion of a top Iranian diplomat over his alleged links to a Kuwaiti spy ring, ratcheting up already simmering tension between the Gulf neighbours.
Bahrain's state news agency BNA reported on Tuesday that the Gulf Arab state had declared the second secretary in the Iranian embassy persona non grata and ordered him to leave within 72 hours.
It named the official as Hujatullah Rahmani and said Iran's charge d'affaires in Bahrain was summoned on Monday to the foreign ministry to be told about the expulsion order.
Iran said it reserves the right of a "reciprocal reaction" to the expulsion.
"The action taken by the Bahrain foreign ministry aims to divert attention and neglect the realities… these kinds of baseless accusations are contrary to good neighbourly relations… and are in line with the divisive intention of foreigners," Ramin Mehmanparast, a foreign ministry spokesman, was quoted as saying on the state television's website on Tuesday.
Bahrain's foreign ministry had on Monday affirmed its "rejection of any interference in the internal affairs of Bahrain and other members of the Gulf Co-operation Council (GCC)" – comprising Bahrain, Kuwait, Oman, Qatar, Saudi Arabia and the United Arab Emirates – the BNA report said.
It also urged the Islamic republic to "end its irresponsible actions, which constitute a grave violation of the norms and principles governing international relations and a threat to regional security and stability".
Spy ring
Earlier this month, Iranian state television said three of Tehran's diplomats and an embassy employee were expelled from Kuwait for alleged links to a spy ring said to be working for Tehran, reportedly ever since the US invasion of Iraq.
Sheikh Mohammad Sabah al-Salem al-Sabah, Kuwait's foreign minister, later charged that the diplomats had proven links to the spy ring, three members of whom were condemned to death by a Kuwaiti court on March 29.
Bahrain has in recent weeks accused Iran of meddling in its affairs.
Tensions between the two escalated after several Gulf countries led by Saudi Arabia sent troops to Sunni-ruled Bahrain last month, freeing up the tiny kingdom's security forces to crush a Shia-led pro-democracy protest movement.
Iran, predominantly a Shia nation, said on Friday it gives "moral support" to the demands of Bahrain's people but without any involvement in the protests in its Arab Gulf neighbour.
On April 18, Mahmoud Ahmadinejad, the Iranian president, accused the US of wanting to create tension between Iran and Arabs.
"America and its allies are trying to create an Iranian-Arab tension, they seek to sow discord among Shia and Sunnis… but their plan will fail," he said at Iran's annual Army Day parade. al Jazeeral