Lebanon may have a cabinet this week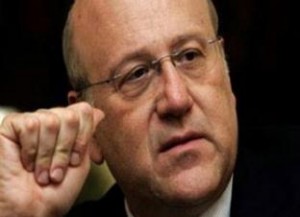 Sources close to PM designate Nagib MiKati told Akhbar Al-Yawm news agency that the new cabinet line-up might be announced on Thursday, noting that it consists of 15 technocrats and 15 politicians.
Lebanon has been run by a caretaker government since last January. Mikati was appointed in January as the PM designate with the backing of the Hezbollah led-March 8 alliance, MPs Walid Jumblatt and Mohammad Safadi . March 14 leaders have repeatedly said that intimidation from Hezbollah's weapons helped secure the parliamentary majority for Mikati's nomination
Mikati has not yet been able to form a cabinet . Free patriotic Movement chief MP Michel Aoun's demand that he should receive a blocking third of cabinet seats, including the Interior Ministry , currently part of President Suleiman's cabinet share has reportedly been the main reason behind the delay in cabinet formation. Aoun reconfirmed today his demand for the ministry of Interior during his press conference following his bloc's meeting.
Mikati who arrived last night from London immediately resumed discussions with March 8 officials to end the cabinet formation impasse . He held talks at his residence with Speaker Nabih Berri's aide Ali Hassan Khalil, and Sayyed Hassan Nasrallah's aide Hussein Khalil.
Mikati on Tuesday, met with Berri in Ain el-Tineh to discussed the cabinet formation according to local reports..
Hezbollah is reportedly creating obstacles for Mikati for insisting on including in the cabinet Faisal Karami , son of former PM Omar Karami as the representative of the Sunnis.
Hezbollah is also reportedly hiding behind Aoun's renewed demand for the ministry of Interior even though it was agreed earlier in March that the interior ministry will go to the centrist bloc of President Suleiman, Mikati and MP Walid Jumblatt.
President Suleiman is reportedly fully aware of Aoun's intentions and for this reason he will not allow Aoun to control the ministry of interior under any circumstances. After all, one analyst told Ya Libnan last month : "Awarding the ministry of interior to Aoun will put the whole internal security of Lebanon under Hezbollah's direct control. Such a situation will be extremely dangerous for Lebanon and will turn Lebanon into another Gaza or Somalia ."
The The Iranian and Syrian -backed Hezbollah brought down PM Saad Hariri's government on January 12 over the Special Tribunal for Lebanon's (STL) imminent indictment which is widely expected to implicate Hezbollah members in the assassination of former PM Rafik Hariri in 2005.
What is interesting is , Lebanon which has a population of 4 million people needs a 30 member cabinet , while countries like the United states of America with a population exceeding 300 million , i.e. 75 times the population of Lebanon has a 15 member cabinet . One analyst commented to Ya Libnan: "Perhaps Lebanon doesn't need a cabinet …all it needs is a capable PM who will have aides in various ministries reporting to him . " He added : "I Bet you with such an arrangement many decisions can be made , a lot more than a 30 member cabinet can"