EU, US take 'first step' toward Syria sanctions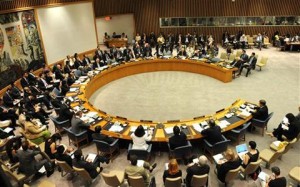 EU countries and the US have circulated a draft UN Security Council (UNSC) press statement on Syria, described by diplomats as a "first step" toward imposing sanctions. The development mirrors last month's build-up to action on Libya.
A source in the UNSC told this website that the draft statement contains language: "condemning violence, calling for restraint, supporting the UN secretary general in calling for an independent investigation into the killings, mentioning the repeal of the emergency law and adoption of other supposedly pro-reform measures, but obviously saying these must be enacted in deed as well as in word, and noting Syria's wider significance in terms of wider security issues in the region."
The contact added that "there is no inevitable move from that [the UNSC statement] toward sanctions, but it is a necessary first step as in the case of Libya – first you had a press statement, then a resolution, then another resolution."
The draft statement has been put forward jointly by the EU's four UNSC members – France, Germany, Portugal and the UK. The US "has been consulted and is supportive," the source noted.
Russia has said it will respond in the next few hours. The prompt Russian reaction is being seen by the EU as a sign that Moscow backs making a statement in principle but aims to negotiate the wording. China is keeping quiet but is expected to take a joint position with Russia.
A UNSC press statement has less force than a resolution but is adopted by the same procedure, giving China and Russia a veto. No formal UN debate has been tabled on Syria, with the discussions taking place through informal channels.
The developments in New York come after a sharp change in tone by France earlier on Thursday (26 April) in Rome.
Speaking to press after a joint summit with Italy on Tunisian migrants, French President Nicolas Sarkozy said: "I would like to remind you that before intervention in the Ivory Coast as in Libya, there was a Security Council resolution and that there is no question of doing this or that until there is a Security Council resolution."
He said three times that "the situation in Syria has become unacceptable."
"There is a historic change taking place. And clearly France, as well as Italy, is on the side of the Arab people in their aspiration forn freedom and democracy. It's a major development for our country's foreign policy."
A French diplomat said: "We are very far away from talk of military intervention [in Syria]." But he added that the diplomatic build up to UNSC resolution 1973 launching the Libya air strikes began the same way, even down to Sarkozy's invocation of the word "unacceptable."
A spokesperson for EU foreign affairs chief Catherine Ashton told this website that a Syria discussion is likely later this week in the Political and Security Committee – a body of EU countries' ambassadors dealing with international crises.
Some EU countries expect Ashton's office to start work on a list of possible EU-level sanctions against Syrian officials, such as visa bans and asset freezes. "Obviously in a situation like this, restrictive measures are something you look at," one senior EU diplomat said.
Syrian President Bashar al-Assad's forces have reportedly killed some 200 people during various protests across the country since Friday (22 April) bringing the death count since violence began six weeks ago to around 400.
Al-Assad has also deployed tanks in the opposition hotspot town of Daraa in southern Syria.
Nadim Houry, a Beirut-based analyst for Human Rights Watch, said the situation on Tuesday evening inside Syria sounded "relatively calm." But he cautioned that it is becoming increasingly hard to get information from sources inside the country. "Daraa is a black hole," he said.
Escalation in Syria has the potential to cause instability inside neighbouring Lebanon or to lead to clashes with Israel.
Lebanon
Foreign Minister Ali Shami, a member of Amal Movement which is closely associated with the Iranian and Syrian backed Hezbollah militant group reportedly instructed Nawwaf Salam , Lebanon's representative at the UN Security council to reject any resolution against Syria , without consulting caretaker PM Saad Hariri or president Suleiman . This prompted a warning by Lebanese Forces ' bloc MP Farid Habib who said today: " We caution the foreign minister against continuing in his unconstitutional practices without consulting with or informing the president and the caretaker cabinet."