EU urges UN to condemn Syrian attacks against protesters
Four European nations are urging the U.N. Security Council to strongly condemn the violence against peaceful demonstrators in Syria.
A council diplomat said France, Britain, Germany and Portugal circulated a draft media statement to the other council members. It will be discussed at a council meeting Tuesday afternoon, the diplomat said, speaking on condition of anonymity because the consultations have been private.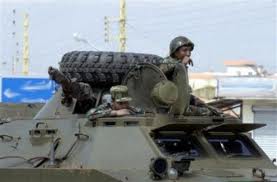 The draft statement supports Secretary-General Ban Ki-moon's call for an independent and transparent investigation into the killings in Syria, where more than 300 people have died in five weeks of unrest, the diplomat said.
It would also take note of the Syrian government's lifting of emergency laws and remind Syrian authorities of their obligation to respect human rights. AP