Syrian Regime rounds up opponents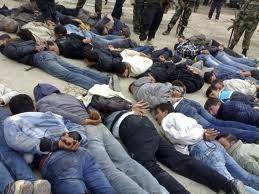 Syrian Security forces raided homes across Syria and arrested opponents of the regime yesterday, activists said, as more funerals were planned for people killed in a bloody crackdown on protests.
Meanwhile, students called for action and two MPs resigned after at least 13 mourners were shot dead on Saturday during funerals of demonstrators killed in massive protests the previous day.
And Human Rights Watch urged the United Nations to invesigate the "carnage" from demonstrations on Friday, when scores of protesters were killed as tens of thousands took to the streets of cities and towns across the country.
Activists said that the death toll from Friday's nationwide protests was at least 109, pending confirmation of a list of names.
Two independent MPs from the hub protest city of Daraa, Nasser al-Hariri and Khalil al-Rifai, told al-Jazeera television they were resigning in frustration at being unable to protect their constituents.
The Syrian Revolution 2011 group, a driving force behind the protests, indicated its determination to keep up the pressure on the regime of Bashar al-Assad.
"We are going out (on the streets) today, tomorrow and the day after," it posted on its Facebook page yesterday.
Friday's deaths signaled no let-up by President Assad, whose forces used live ammunition against demonstrators, witnesses and activists said.
The bloodshed erupted as tens of thousands of people took to the streets for protests to test long sought-after freedoms a day after Mr Assad scrapped decades of draconian emergency rule.
In Barzeh a witness, who wished to remain anonymous, said that at least 1000 mourners came under fire as they prepared to bury four men and two children, one seven years old and the other 14. The witness said security forces aimed directly at the mourners, many of whom sought shelter in a nearby mosque.
The shooting lasted at least 10 minutes, he said. Religious leaders inside the mosque pleaded on loudspeakers for security forces to stop firing at unarmed protesters and called for medical help for the wounded.
"They shot directly at people, and all hell broke lose," the witness said. "We could hear voices of children and people screaming frantically."
In Douma, on the outskirts of Damascus, at least 1500 mourners marched from the main mosque to the cemetery, a witness said. As they approached a government building, plain-clothes police began firing at them, in barrages that lasted three hours. "I saw people killed in front of me," the witness said.
"People were on the ground wounded, and no one could assist them, help them or get to them."