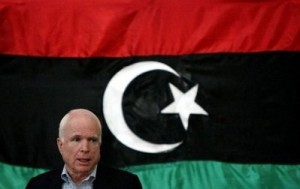 The Libyan conflict is heading for stalemate, the top U.S. military officer said on Friday, and Senator John McCain urged the United States to recognize the rebels and transfer frozen Libyan funds to them.
Admiral Mike Mullen, chairman of the U.S. military's joint chiefs of staff, told U.S. troops in Baghdad that Western-led air strikes had degraded between 30 and 40 percent of Muammar Gaddafi's ground forces.
Referring to the conflict, he said: "It's certainly moving toward a stalemate.
McCain, the most senior Western politician to visit the rebels' eastern stronghold of Benghazi, said the United States should transfer frozen Libyan assets to the rebels and urged NATO to step up it air strikes against Gaddafi's forces.
"I would encourage every nation, especially the United States, to recognize the Transitional National Council as the legitimate voice of the Libyan people," he said.
"They have earned this right and Gaddafi has forfeited it by waging war on his own people," he said.
McCain, the most senior Republican on the U.S. Senate Armed Services Committee, said he had visited a Benghazi hospital where he saw the dead and dying, adding: "It argues for us to help them and to get this thing over with and Gaddafi out."
Sources close to French President Nicolas Sarkozy said he planned to visit Benghazi, probably in the first two weeks of May, and that he wanted British Prime Minister David Cameron to accompany him.
France and Britain have taken the leading role in the Western-led air campaign against Gaddafi's forces.
A source close to Sarkozy's office said France was also in favor of releasing frozen Libyan assets to help finance the rebel movement.
"If the funds remain frozen, the Libyan National Council (rebel movement) will run out of resources, so we are having a debate with our European partners to see what can be done about this," the source told Reuters.
In Misrata, the only major rebel-held city in western Libya, rebels seized control of a downtown office building that had been a base for Gaddafi's snipers and other troops, after a furious two-week battle.
Shattered masonry, wrecked tanks and the incinerated corpse of a government soldier lay near the former insurance offices on Friday amid buildings pockmarked by gunfire.
"They shot anything that moved," one fighter said of the Gaddafi men driven out.
Rebels said they had captured several other central buildings from government forces and the state of the battle did not appear to match claims by government officials in Tripoli to control 80 percent of Misrata.
BLOCK-BY-BLOCK WAR
Rebel fighters were fighting a block-by-block war of attrition with an enemy sometimes only meters away.
Some rebels say a shortage of weapons means they have to be shared among shifts, with one shift handing them over to the next.
There was sporadic fighting on Friday on Tripoli Street, the scene of the fiercest exchanges during the siege, with occasional explosions. At the city's hospital, parts of rockets and other ammunition were on display in the parking lot to show people what was being used against them.
Hundreds of fighters and civilians have died in Misrata during the siege. Rebel fighters have voiced frustration with the NATO military operation they see as too cautious.
The U.S. administration has been anxious not to spearhead NATO's Libya campaign. It has instead let British and French planes do the bombing and has not deployed low-flying ground attack aircraft, unique to U.S. forces, which military analysts say would be most effective against Gaddafi's troops.
Rebels welcomed U.S. plans announced on Thursday to deploy unmanned aircraft against Gaddafi's forces.
Analysts said the use of drones was a way of appeasing French and British calls for more U.S. help but were far from being a "silver bullet" to tilt the conflict against Gaddafi.
Libyan state television said nine people had been killed overnight by NATO bombardment of the city of Sirte, Gaddafi's home town, including employees of the state water utility.
Morocco said it was seeking a political solution to the crisis, after Moroccan officials met representatives of Gaddafi and rebels this week.
An official Moroccan source said Rabat was working for a solution which would "respond to the aspirations of the Libyan people and ensure a return of stability which is extremely important for the Mediterranean and sub-Saharan Africa."
Photo: US Republican Senator John McCain speaks during a press conference in the Libyan rebel stronghold of Benghazi.