Jumblatt pessimistic over early cabinet formation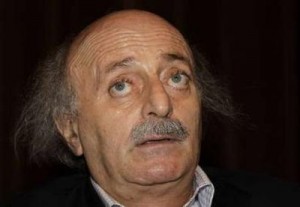 Progressive Socialist Party leader MP Walid Jumblatt is pessimistic over the formation of Lebanon's  new cabinet after Easter holidays saying there is still disagreement on the interior ministry portfolio.
There were reports pointing to a cabinet by early next week
Jumblatt told An Nahar newspaper in remarks published Friday that "the cabinet formation process is still at a standstill and there's still disagreement on who will be given the interior ministry portfolio."
He told an Nahar that he asked Speaker Nabih Berri to solve the cabinet crisis so that government institutions can begin functioning again.
Jumblat also unveiled that he told former PM Fouad Siniora with whom he met recently that the Future movement should eventually meet with Shiite leaders.
An Nahar reported that Jumblat would visit Damascus on Monday to hold talks with Maj. Gen. Mohammed Nassif.
One analyst told Ya Libnan: "The Hezbollah-led March 8 alliance is acting like 'Ali Baba and the forty thieves' and wondered how can a coalition of this sort govern the country if it can't even form a cabinet ."
Al-Hayat newspaper quoted some March 8 sources as saying in remarks published on Thursday that consultations between PM-designate Najib Mikati and Free Patriotic Movement leader Michel Aoun through the mediation of Hezbollah led to a " partial agreement l."
Aoun, who has been bickering with President Michel Suleiman over the interior ministry, has reportedly agreed to share 10 ministerial portfolios with his allies the Marada movement and the Tashnag party . One state ministerial portfolio is included in the share .
An agreement has reportedly also been reached over who shouldn't get the interior ministry :
"Neither Caretaker Interior Minister Ziad Baroud , nor FPM".
Baroud was hailed after the 2009 elections as one of the best ministers of Interior Lebanon has ever had . Even Aoun praised him.
Mikati was appointed in January as the PM designate with the backing of the Hezbollah March 8 alliance and MPs Walid Jumblatt and Mohammad Safadi . March 14 leaders have repeatedly said that intimidation from Hezbollah's weapons helped secure the parliamentary majority for Mikati's nomination.
Aoun's demand that he should receive a blocking third of cabinet seats, including the Interior Ministry , currently part of President Michel Suleiman's cabinet share has reportedly been the main reason behind the delay in cabinet formation.