U.S. unsure new Syria law will be improvement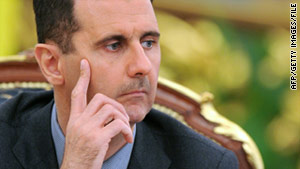 The United States is unsure that Syria's draft law to lift emergency rule will be less restrictive, a State Department spokesman said on Tuesday.
Syria's government passed a draft law to lift 48 years of emergency rule. State news agency SANA said the cabinet ratified draft legislation which must still be signed by President Bashar al-Assad.
"It's unclear whether they've passed legislation to lift the emergency law, but that a new law requiring protesters — to receive permission from the Interior Ministry before holding demonstration — may be in play here," State Department spokesman Mark Toner said.
Syria's cabinet also passed legislation to "regulate the right of peaceful protest" and Interior Ministry permission will be required to demonstrate in Syria, the state news agency said.
In light of some of the comments from Syria's interior minister, "this new legislation may prove as restrictive as the emergency law it replaced," Toner said.
Toner also said that violence overnight by soldiers firing on protesters continued "to raise serious concerns and it remains clear that the Syrian government needs to urgently implement broader reforms and … to cease violence against peaceful protesters." Reuters