Syria preparing legal case against Future Movement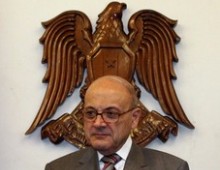 Syrian authorities are preparing a legal file on the accusations against the Future Movement in the anti-regime protests that have been taking place across Syria since last month, Lebanese-Syrian Higher Council Secretary General Nasri Khoury said Wednesday.
Khoury, who is a Member of SSNP and who is very closely linked to the Syrian regime told NBN TV:
"The Syrian authorities are readying a file that will be sent to the Lebanese judiciary,".
According to OTV the file contains information which alleges that Lebanese ID cards were given to Syrians to facilitate their travel between the two countries.
Khoury also also said that "Speaker Nabih Berri is keen on following up on the issue."
Asked by NBN if the council will convene to discuss this issue , Khoury said: "The Syrian ambassador has performed his duties in a very transparent manner and it's not possible for the council to convene before the formation of a new cabinet in Lebanon."
Syrian President Bashar al-Assad has been facing the biggest challenge to his rule. Popular protests demanding greater freedoms and an end to corruption erupted over a month ago in southern Syria and spread to the capital Damascus and most cities in Syria. Last Friday witnessed the largest ever protest and there are reports pointing to more protests this coming Friday since the Christians were urged to participate on Great Friday.
Just like the Egyptian, Tunisian and Libyan regimes the Syrian regime has been blaming foreigners for the protests. Last week the Syrian regime accused a Lebanese Future movement legislator of funding and arming the opposition to fuel a wave of protests in the country, a charge that was repeatedly denied by the party and MP Jamal al Jarrah.
Following the airing of the Syrian allegations Jarrah told LBC "Interfering in Syria's internal affairs is out of the question".
"We have neither the ability nor the intent to interfere in Syria's domestic affairs," Jarrah stressed
"We do not allow anyone to interfere in Lebanese internal affairs. If Syria has a case to discuss, it can address the government and the judiciary through the Lebanese Ministry of Foreign Affairs." He added